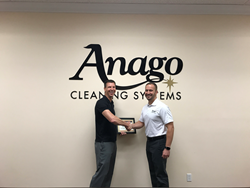 "Anago's business model is fundamentally built on running a profitable Master Franchise while assisting other community members with opening their own commercial cleaning business," says Shane. "For me, that was the deciding factor in choosing Anago as my next business endeavor."
FT. LAUDERDALE, Fla. (PRWEB) March 01, 2018
Anago Cleaning Systems (Anago), an industry-leading commercial cleaning franchise with over 35 Master Franchise locations and over 1,400 Unit Franchises throughout the U.S. and internationally, is pleased to announce the opening of its newest St. Paul, Minnesota Master Franchise territory which will be spearheaded by Shane Zindel.
"Shane is a highly accomplished executive with a background in financial operations and is a navy veteran," says Adam Povlitz, President of Anago Cleaning Systems. "That coupled with his determination to help grow Unit Franchises within the St. Paul market is what will make him a valuable asset to the Anago family."
Anago of St. Paul is owned by Zindel, a former Chief Financial Officer from Decatur, Illinois. He also served in the United States Navy as a Seabee and was called into active duty for Operation​ Desert Storm. After successfully growing on the Minneapolis side for the last five years, Anago is ready to expand into the St. Paul market. Zindel will help drive strategic growth within the booming St. Paul market while simultaneously creating new business ownership opportunities for those seeking to open a commercial cleaning business. Prior to joining Anago, he served as the Sr. Director of Financial Operations for Thomson Reuters, a successful legal solutions firm. Zindel has also worked as a financial executive for four Fortune 500 companies.
"Anago's business model is fundamentally built on running a profitable Master Franchise while assisting other community members with opening their own commercial cleaning business," says Shane. "For me, that was the deciding factor in choosing Anago as my next business endeavor."
Zindel received his B.S. in Finance and Accounting from the University of Illinois and an MBA from Purdue University. He and his wife are active volunteers for the Retrieve a Golden of Minnesota (RAGOM) and he is a successful triathlete.
To explore Master franchise opportunities with Anago, contact Judy Walker, Vice President of Marketing, at 800-213-5857 or judy(at)anagocleaning(dot)com or visit http://www.AnagoMasters.com.
About Anago Cleaning Systems
Anago Cleaning Systems is a commercial cleaning franchise system supporting over 35 Master Franchises and over 1,400 Unit Franchisees in the U.S. and internationally. After years of refining procedures and creating duplicable systems created in his large commercial cleaning service, David Povlitz founded Anago in 1989 to help other entrepreneurs open their cleaning businesses. Today, its program sets the standard worldwide in commercial cleaning. Anago was ranked in the Top 100 and #2 best commercial cleaning franchise by Entrepreneur Magazine for their 2018 Franchise 500® ranking. Additionally, Anago was ranked the #1 Janitorial Franchise by FranchiseRankings.com in 2018 and ranked by Franchise Business Review as one of the best franchises in Franchisee satisfaction for 11 consecutive years. Inc. Magazine has also listed Anago as one of the top privately-held companies in the U.S. For further information, visit its website at http://www.AnagoMasters.com.