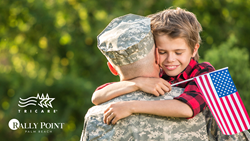 Having the chance to serve those who have served our country is an honor and a privilege.
WEST PALM BEACH, Fla. (PRWEB) March 01, 2018
Rally Point is thrilled to be able to work with Tricare insurance to serve our hero veterans and is passionate about helping them live happier, healthier and more rewarding lives. Military members and their families who are struggling with alcohol or drug addiction have enough to deal with before they enter treatment and worrying about insurance shouldn't be one of them. When you're at Rally Point, the only thing you will need to focus on is getting better.
Tricare insurance has undergone some recent changes and is now managed in two separate regions. Humana Military manages the new East Region and Health Net Federal Services manages the West Region. Any facility wanting to accept clients with Tricare insurance for drug or alcohol addiction treatment must first go through a credentialing process to become a certified provider. Rally Point is proud to have attained this certification and is eager to start working with military members and their families.
Below are some common Tricare insurance plans:

TRICARE Prime
TRICARE Prime Remote
TRICARE Prime Overseas
TRICARE Prime Remote Overseas
TRICARE Select
TRICARE Select Overseas
TRICARE For Life
TRICARE Reserve Select
TRICARE Retired Reserve
TRICARE Young Adult
US Family Health Plan
The addiction treatment programs at Rally Point are tailored to the client's unique needs and are based on love and inclusion in a family-like atmosphere. As you probably already know, traveling away from home can be difficult but leaving the familiar and entering into a new environment for substance abuse treatment offers a variety of benefits even for out-of-state clients, such as:
Freedom from distractions
Personalized attention
More privacy
Less chance of giving up
Higher success rates
More specialized services
Getting addiction treatment in West Palm Beach gives clients the opportunity to start over in a beautiful new environment away from the things, people, and places that can trigger a relapse. South Florida's beautiful landscape and warm climate help Rally Point provide different types of therapeutic activities that incorporate nature. For example, clients partake in unique services like adventure therapy, group outdoor activities, yoga/meditation and on-site fishing thanks to the year-round tropical weather. The rehabilitation facilities are also pretty different – there are all of the comforts of home including a full kitchen, air-conditioning, washer & dryer, flat screen HDTVs, swimming pool, hot tub, basketball court, therapy dog (in-training) and more.
Rally Point is a male-only facility and firmly believes that gender-specific treatment offers many advantages over mixed-gender programs.
Statistics show a better success rate for gender-specific programs
Fewer distractions in treatment (i.e. sexual attractions and relationships) allow for more focus and concentration
Better communication as some clients will share more openly with members of the same sex
Male-only programs are able to concentrate more on the unique experiences and issues that affect men
Bonding tends to be stronger among same sex groups (e.g. male-bonding, brotherhood, etc.)
A strong support system within an addiction treatment program is key to recovery and gender-specific treatment is one of the most effective ways to provide that support. By having male-only rehabilitation facilities, Rally Point is able to provide clients with a more personalized treatment program rather than a more general approach that is typical of mixed-gender facilities. Instead of a client worrying about how he will appear in front of the opposite sex, he'll be able to focus more on what's important – treatment.
Rally Point has designed its programs and facilities to help those struggling with addiction to overcome their issues and achieve lasting sobriety. The staff is excited about the ability to reach even more military members, veterans and their families and is passionate about helping them reclaim their lives. Having the chance to serve those who have served our country is an honor and a privilege.