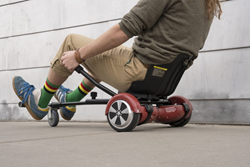 DENVER, CO (PRWEB) March 01, 2018
GOTRAX™, a Denver-based brand of electric rideables driven by imagination and innovation with a focus on science and education, shares an easy to follow guide for creating a hoverboard go-kart using its HOVERFLY KART, a simple hoverboard seat attachment.
About the HOVERFLY KART
When connected to a HOVERFLY hoverboard, the HOVERFLY KART takes the experience of riding a hoverboard and transforms it into something else entirely. In fact, it's like having two different e-rideables in one.
The HOVERFLY KART allows the rider to sit comfortably in the race-inspired bucket seat and accelerate, stop and steer with intuitive hand controls via the ergonomic space-foam handlebar grips. The HOVERFLY KART harnesses the space-age gyroscopic technology of hoverboards to create an entirely new electric-powered experience.
Featuring a sturdy, adjustable, steel tube frame to accommodate most children and some adults, the HOVERFLY KART is engineered to work with self-balancing scooters with wheel sizes ranging from 6.5 to 10 inches. Utilizing the 0-degree turning radius of the attached hoverboard, the kart's front end pivots on a precision caster wheel, making it incredibly maneuverable yet stable, cable of riding on a greater variety of surfaces than most hoverboards.
How To Turn Your Hoverboard into a Go-Kart
Once you have a hoverboard and a HOVERFLY KART, there are just a few easy steps to creating your very own hoverboard go-kart.
ASSEMBLING YOUR HOVERBOARD GO-KART
Step 1: Unpack
Inside your GOTRAX HOVERFLY KART container you will find the below supplies for your mission. (See image 1)

Allen Keys (2 pcs)
Hex Wrenches (2 pcs)
Gasket
Washers (4 pcs)
M10 Locknuts (2 pcs)
M8 Locknuts (4 pcs)
Lock Washers (2 pcs)
M8*15 Bolts (4 pcs)
Handlebars with fastener systems (2 pcs)
HOVERFLY KART seat
Frame
Remove any dirt or debris and double-check for any accidental damage to your GOTRAX HOVERFLY KART that may have occurred during transportation.
Step 2: Build Up
Follow the below step-by-step instructions to properly assemble your HOVERFLY KART.
WARNING: Failure to properly attach, tighten and secure all bolts, locknuts, screws and fasteners will increase the risk of injury.
TRAX TIP: Make sure your hoverboard is fully charged and ready for go-karting before you begin assembly.
.01 ATTACH THE HANDLEBARS
(see image 2)
Attach the two handlebars (h) to the screw rods on either side of the Wheel Frame (j) plate using the Washers, (d) the M10 Locknuts and Lock Washers (e). (see image 2)

Put one large washer (d) on each screw rod.
Put the handlebars (h) on the screw rods. Both handlebars (h) should point towards the wheel with the arms of the handlebars (h) extending outwards.
Put one small washer (d) on each screw rod.
Put one lock washer on each screw rod.
Use the M10 Locknuts (e) on the screw rods and tighten until each handlebar is firmly secured on the screw rods.
.02 SECURE THE SEAT
Attach the HOVERFLY KART seat (i) to the Wheel Frame (j) plate using the M8*15 bolts (g) and M8 Locknuts (f).

Place the seat (i) in position and insert the bolts (g) so they go through both the seat (i) and the Wheel Frame (j) plate.
Use the M10 Locknuts (e) on the bolts (g) and tighten with an Allen Key (a) and a Hex Wrench (b) until the seat (i) is firmly secured to the Frame (j) plate.
.03 ADJUST THE FRAME
Adjust the length of the Frame (j) to fit your height.

Secure with the Gasket (c)
Tighten the Gasket (c) until it is firmly secured.
.04 FASTEN THE HOVERFLY KART TO YOUR HOVERBOARD

Size brackets to snugly fit the hoverboard and tighten bolts so brackets do not loosen.
Use the velcro fastener straps to attach the HOVERFLY KART to your self-balancing scooter aka hoverboard.
Make sure the hoverboard is facing the correct direction so that the HOVERFLY KART wheel will be in front. The power button should be in the rear, LED lights in front.
TRAX TIP: Plot out your route after you have assembled your GOTRAX HOVERFLY KART. Check for any objects and potential hazards.
Step 3: Suit Up
Strap on your helmet, knee / elbow pads and wrist guards prior to boarding your GOTRAX HOVERFLY KART.
Safety gear is important for all riders. Always wear athletic shoes with rubber soles and laces tied and out of the way.
Step 4: Boarding Procedures
Find a wide-open flat surface that is safe for go-karting.
Sit in the GOTRAX HOVERFLY KART seat.
Check for any loose or hanging articles of clothing that could interfere with your mission.
WATCH: HOVERBOARD GO-KART WHEELIE WORLD RECORD
RIDING YOUR HOVERBOARD GO-KART
Step 1: Power Up

While seated in the HOVERFLY KART, press the power button on the back of your hoverboard to turn it on.
Firmly hold onto the handlebars with both hands.
TRAX TIP: Watch out for people, cars and other obstacles.
Step 2: Hoverboard Go-Karting
(See image 3)

Forward Acceleration: Gently push the handlebars slightly forward to accelerate.
Speed Control: The harder you push, pull, or turn the handlebars, the faster you will go-kart.
Slow to Stop: Gently pull the handlebars slightly back to slow to a stop.
Reverse: Gently pull the handlebars back to move backward.
To Turn Right: gently pull the right handlebar upwards and the left handlebar downwards.
To Turn Left: gently pull the left handlebar upwards and the right handlebar downwards.
TRAX TIP: Avoid sudden or jerking movements that can present risks of injury or falling off.
#3 Mission Complete
Come to a complete stop and turn off your hoverboard by pressing the power button before attempting to step out of the HOVERFLY KART.
TRAX TIP: Celebrate your successful mission.
GOTRAX GALAXY Laws
To ensure all riders are as safe as possible at all times, please follow all local, state, and federal laws and safety rules for your GOTRAX HOVERFLY KART.
No mission can be guaranteed safe, and you are go-karting at your own risk, so please exercise caution following all safety guidelines below and in the Commander's manual included with the HOVERFLY KART.
Always wear a helmet, knee pads, elbow pads and wrist guards.
Always check your HOVERFLY KART for damage before operating.
Never exceed the 220-pound weight limit.
Never ride in icy or wet conditions.
Never go-kart on inclines of more than 30 degrees.
Know and follow local laws and give way to pedestrians.
Don't attempt tricks or go-kart on difficult terrain without proper preparation and safety precautions.
Riders attempt tricks at their own risk.
If at anytime you feel unsafe or uncertain, discontinue use. If you are in danger, please contact the appropriate emergency services.
Want More TRAX Tips & Tricks? Visit GOTRAX.com
GET SOCIAL: @RideGOTRAX
ABOUT GOTRAX
Welcome to the GOTRAX™ GALAXY, where every day's the weekend and robots are our friends. We're on a mission to create electric rideables that boost imaginations and the possibilities for personal transportation. As of 2017, GOTRAX™ is dispatching electric rideables across the planet, starting with the HOVERFLY two-wheel self-balancing electric scooter aka hoverboard. Our company values start right here in our Denver-based marketing headquarters, where our team works their space boots off to raise the standards of the electric rideables industry, with a brand focus on science and education designed to encourage a sense of learning and discovery for children.
GOLABS, INC™ DBA GOTRAX™
###
MEDIA INQUIRES - Don Stefanovich | press@gotrax.com