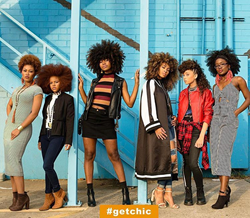 For decades, beauty and fashion campaigns have been synonymous with promoting long, sleek, and chemically-processed straight hair - CurlyChic hair can be all curl types and textures. We are excited to unveil our new campaign with a focus on lush, natural, beautiful curls
LOS ANGELES (PRWEB) March 09, 2018
Globally recognized hair care company, Advanced Beauty Care Inc has added a new label, CurlyChic Hair Care under its umbrella of top-selling mixed texture hair care brands.
Dedicated to celebrating curl diversity, CurlyChic Hair Care designs and provides revolutionary products that afford teens and adults the chance to set their curls free. When cared for with CurlyChic Hair Care, these curls are extremely nourished, defined, and lush.
"For decades, beauty and fashion campaigns have been synonymous with promoting long, sleek, and chemically-processed straight hair - CurlyChic hair can be all curl types and textures. We are excited to unveil our new campaign with a focus on lush, natural, beautiful curls" said Sandy Williams, Social Engagement Director of CurlyKids and CurlyChic Hair Care brands.
The CurlyChic Hair Care brand is already garnering buzz within the beauty and naturally curly hair communities. Customer and influencer favorites thus far include CurlyChic Your Curls Conditioned, CurlyChic Your Curling Custard, CurlyChic Mane Moisturizer Curly Creme Vitalizer. CurlyChic Hair Care is quickly establishing a position as the go-to solution for the unique needs of mixed-texture curly hair.
For hair as unstoppable as you are, check out CurlyChic Hair Care products at Sally's Beauty and WalMart stores, or online at CurlyChicHairCare.com
Founded in 2014, CurlyChic Hair Care is a black-owned and family-operated business based in Los Angeles, CA. For more information please visit CurlyChicHairCare.com and for exclusive event invites, model castings, contests and giveaways follow CurlyChic on Instagram at http://Instagram.com/curlychichaircare and Twitter at http://twitter.com/CurlyChicHair become a fan on Facebook at https://m.facebook.com/CurlyChic-Mixed-Texture-Haircare-112330859571335/ and subscribe on YouTube