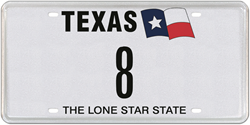 Lucky number 8 sold for $34,500 making it the second highest plate sold in Texas
AUSTIN, Texas (PRWEB) February 28, 2018
The first-ever single digit Texas license plate auction has now concluded with all three plates on offer being sold. MyPlates.com, the state's vendor for marketing specialty and personalized license plates in Texas, conducted the auction that resulted in $78,000 in sales and $46,728 going to the state of Texas' general fund.
The highest selling plate was the low single digit lucky number "8" that sold for $34,500, making it the 2nd highest selling plate in Texas. The plate 12THMAN still holds the honor as the most expensive selling for $115,000 in 2013.
The other lots that sold included the lowest number offered, "3", selling for $33,000 making it the 3rd highest plate sold in Texas, and the only single letter plate offered in this auction, "J" selling for $10,500.
Unlike other everyday Texas license plates, plate messages sold at auction by My Plates are legally transferable. The plate owner then has the right to sell the plate message to another person with the same ongoing rights or gift it to a family member or friend. Transferability also means these plates could make great investments.
Auction Results
Plate Number Sold Price

3 $33,000
8 $34,500
J $10,500
Auction Details:
My Plates First Single-Digit Auction dates:

Begin Bid Date: Thursday, 02-01-18
End Bid Date: Wednesday, 02-28-18
The winning bidders of these rare license plate messages, "3", "8" and "J" now own the right to their plate pattern for 5 years, with first dibs on renewing it at the state's everyday pricing.
My Plates has announced that their next event will be their "Great Plate Auction" where 50 unique license plate messages will be offered to the market including some never before released 7-letter messages, some previously reserved messages as well as low two and single character plate patterns.
To find out more information about the auction, simply visit My Plates home page or visit http://www.myplates.com/auction.
Most Expensive License Plate Facts:

Most Expensive Plate in the World – UAE plate "1" sold for $14.3M, February 2008.
Most Expensive Plate in U.S.A: Delaware plate "6" sold for $675,000, February 2008
Most Expensive Plate in Texas: 12THMAN sold $115,000, September 2013.
My Plates designs and markets new specialty license plates as a vendor for the Texas Department of Motor Vehicles. Texans have bought more than 345,000 My Plates since November 2009, putting more than $62 Million in the state general revenue fund. My Plates' goal is to create a long-term, mutually beneficial relationship designed to maximize revenues for the state through the sale of My Plates specialty plates. http://www.myplates.com.
The Texas Department of Motor Vehicles (TxDMV) serves protects and advances the citizens and industries in the state with quality motor vehicle related services. For every $1 it spends, the TxDMV returns $11 to the state. The agency currently registers 24 million vehicles; issues more than 7 million vehicle titles; licenses more than 38,000 motor vehicle dealers and distributors; credentials nearly 60,000 motor carriers; issues more than 800,000 oversize/overweight permits; investigates more than 15,000 complaints against dealers and motor carriers; and awards grants to law enforcement agencies to reduce vehicle burglaries and thefts. Learn more at http://www.TxDMV.gov.
Contact Steve Farrar at (512) 633-7978 or steve(at)myplates(dot)com