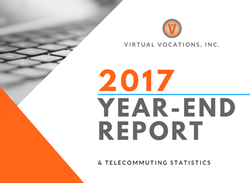 Virtual Vocations screened and posted 160,654 vacancies to our remote job board, accounting for 20% growth in the number of jobs openings we were able to bring to jobseekers. —Laura Spawn, Virtual Vocations CEO
TUCSON, Ariz. (PRWEB) March 01, 2018
The 2017 Year-End Report from Virtual Vocations is the company's third annual report detailing the top U.S. locations, remote employers, and career categories associated with telecommuting jobs.
In addition to being Virtual Vocations' 10th anniversary year, 2017 saw the company achieve their highest growth numbers to date. "Virtual Vocations screened and posted 160,654 vacancies to our remote job board, accounting for 20% growth in the number of job openings we were able to bring to jobseekers," said Laura Spawn, Virtual Vocations CEO.
Over the course of the year, Virtual Vocations also expanded their database of telecommute company profiles. These research-based employer write-ups provide curious job applicants with vital information about telecommute-friendly companies known for hiring remote professionals. During 2017, Virtual Vocations vetted more than 6,500 new remote employers, bringing the company's total number of employer profiles to more than 10,000.
Data collected for Virtual Vocations' 2017 Year-End Report was aggregated from criteria used by the company to evaluate the telecommute job postings they screen. Criteria used by Virtual Vocations includes information on each job posting's location, source, travel requirements, amount of telecommuting allowed, job category, and more.
The top states for remote work in 2017 are California, Texas, New York, Florida, and Illinois. Remote job openings from these states accounted for more than 23% of all job postings added in the Virtual Vocations database. Additional top locations for telecommuting include states in the Mid-Atlantic and Midwest regions of the U.S.
Remote employers who sought to fill the most telecommuting job openings in 2017 include companies from the healthcare, insurance, information technology, and teaching fields. For the third consecutive year, UnitedHealth Group topped Virtual Vocations' annual list.
Job industries favorable to telecommuting touch practically every sector of employment. Virtual Vocations found the career categories with the highest prevalence for remote job openings to be those in information technology, sales, healthcare, account management, and education.
Read the full report on the Virtual Vocations company blog.
About Virtual Vocations: Virtual Vocations has assisted over half a million individuals in their search for flexible, telecommute jobs. The company is dedicated to bringing jobseekers expertly researched leads that offer some form of telecommuting or virtual work. Virtual Vocations is a private, family-owned, and 100% virtual company incorporated in Tucson, Arizona.