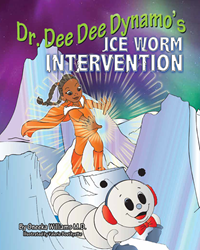 Books transported me into new worlds and ignited my imagination and insatiable thirst for more!
BOSTON, Mass. (PRWEB) March 01, 2018
Boston-based author/surgeon Dr. Oneeka Williams is on a mission to excise limited mindsets through her writing. She has created a powerful and positive girl superhero to encourage every child to love science and live a life without limits. Dr. Dee Dee Dynamo is a girl super surgeon on the go who creates a counter-narrative for all children about who can be a surgeon, scientist or superhero. She uses STEM concepts and adventure to invite children to discover the wonders of science while creating a powerful role model who encourages children to believe that there are no limits to what they can achieve.
On Friday, March 2, the fifth anniversary of the launch of the Dr. Dee Dee Dynamo book series, Williams will release her new book "Ice Worm Intervention" – a book on climate change. The launch intentionally coincides with Read Across America Day.
Guyanese-born Williams recollects, "Growing up, we had no TVs, computers or smartphones! Books transported me into new worlds and ignited my imagination and insatiable thirst for more! There were no limits to what I could access through the pages of a book." Motivated by the underrepresentation of women in STEM careers, the lack of powerful and positive female superhero role models for girls, and the fact that only three percent of children's books feature characters of color, Williams decided that it was fitting that books be the platform upon which she would create global impact.
"Dr. Dee Dee Dynamo's Ice Worm Intervention" will be available in five versions — board book (ages 0-4), paperback (ages 4-7), hardcover (ages 7-12), eBook and a workbook. As part of the book release and commitment to the vision that all children be exposed to Dr. Dee Dee Dynamo, Williams is launching a campaign to donate a copy of one of her Space Series books to as many schools as possible. Throughout March, educators and librarians can receive a book donation through the Dr. Dee Dee Dynamo request page. Additionally, from noon on Friday, March 2 to noon on Saturday, March 3, readers will be able to download a free copy of the "Ice Worm Intervention" eBook from the Dr. Dee Dee Dynamo website.
For more information about the anniversary celebration and Dr. Dee Dee Dynamo, join the Facebook Live Launch Party at 7:30 p.m. EST on March 2 or visit http://www.drdeedeedynamo.com.
About Dr. Oneeka Williams
Dr. Williams is a practicing surgeon at St. Elizabeth Medical Center in Boston and is an assistant clinical professor of urology at Tufts University School of Medicine. She was born in Georgetown, Guyana, South America, which was her home until the age of 10 when her family relocated to Barbados. Dr. Williams' professional journey includes an undergraduate degree in Biophysics at Johns Hopkins University, graduate degrees in public health and medicine at Harvard Medical School, and surgical training at leading academic medical centers including Massachusetts General Hospital and The Lahey Clinic. She lives just outside Boston with her husband, Dr. Charles Leon Anderson, Jr., a neonatalist, hospital management specialist and corporate executive and their son, Mark.