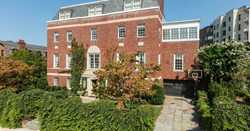 Everyone loves The Hirshhorn Mansion.
(PRWEB) March 01, 2018
The Hirshhorn Mansion at 2241 Bancroft Place NW stands alone as one of Washington, D.C.'s most iconic residences.
The former home to famed art collector Joseph H. Hirshhorn, the story of this elegant Kalorama residence offers a glimpse into the lives of one of Washington's most revered philanthropists and the history of American Modern Art.
Constructed in 1924 under the stewardship of Brigadier General George P. Scriven, 2241 Bancroft Place NW was designed by architect George Ray in the Georgian style and built by Robert J. O'Neil, both of whom are responsible for several notable commissions in iconic Washington, D.C. neighborhoods such as Dupont Circle, Sheridan, and Massachusetts Avenue Heights.
Born in 1854, Scriven was a graduate of West Point and would eventually serve as Chairman of the National Advisory Committee for Aeronautics — the forerunner to NASA. During his tenure, Scriven represented the United States at the coronation of Russian Czar Nicholas II in St. Petersburg and served in Beijing during the Boxer Rebellion.
In 1969, Joseph H. Hirsshorn and his wife, Olga, purchased the home from the estate of Mrs. Scriven, which would serve as the couple's primary residence until Mr. Hirshhorn's death in 1980.
Born in 1899, Joseph Hirshhorn emigrated to the United States from Latvia when he was 8 years old. The twelfth of thirteen children, Hirshhorn was a self-made man whose success as a New York financier and stock broker helped fuel his rise to prominence as one of the world's foremost philanthropists and collectors of nineteenth and twentieth century fine art and sculpture.
A patron of the arts, Hirshhorn maintained close personal friendships with some of the world's most legendary artists, including Pablo Picasso and Georgia O'Keefe, who used to spend her birthdays with the Hirshhorn's at 2241 Bancroft Place NW.
With works from artists such as Rodin, Calder, and Giacometti — many of which were kept in the elegant gardens of 2241 Bancroft Place NW — Hirshhorn's collection of over 6,000 paintings, sculptures, drawings, and mixed media pieces would eventually populate the Hirshhorn Museum and Sculpture Garden, established in 1966 under the sponsorship of Lady Bird Johnson, First Lady to President Lyndon B. Johnson.
Given the scope of Washington's residential landscape, The Hirshhorn Mansion truly is one of a kind. With approximately 8,000 square feet of interior living space and elevator access on each floor, the home includes 13-foot ceilings, 5 fireplaces, 7 bedrooms, 4 bathrooms, and 3 half bathrooms. The large scale of this spectacular and historic residence — which includes a spacious library, a large formal dining room with an original Baccarat chandelier, and countless memories that helped shape the fabric of American Contemporary Art — offers ample accommodations for both family or diplomatic use.
"Houses are like people," says Stan Kelly of TTR Sotheby's International Realty. "Some you like and some you don't like — and once in a while, there is one you love. Everyone loves The Hirshhorn Mansion."
In 1981, The Hirshhorn Mansion was sold to George Washington University, serving as The President's House for nearly two decades. In 2009, the home was sold once more to the current owners, who — nearly 100 years after the construction of 2241 Bancroft Place NW — remain the last link between the Scrivens, the Hirshhorns, and the stories behind one of Washington's most iconic residences.
During one of her many visits to 2241 Bancroft Place NW prior to her death, Olga Hirshhorn complimented the current owners on their renovations.
According to the current owners: "Her only criticism was that it needed more art."
Presented by Stan Kelly of TTR Sotheby's International Realty, The Hirshhorn Mansion is listed for $5.3 Million.
About TTR Sotheby's International Realty
TTR Sotheby's International Realty is the exclusive Sotheby's International Realty affiliate for the Washington Metropolitan Region. With seven offices located strategically across Washington, D.C., Maryland, and Virginia, our 400 real estate professionals are ranked among the highest performing in the nation, and are regarded for their integrity, professional service, and community leadership. Through our relationship with the venerable Sotheby's auction house, TTR Sotheby's International Realty produces extraordinary results for our clients by leveraging proprietary global marketing, cutting edge digital strategies, and unrivaled access to the most affluent and discerning global clientele. To learn more about TTR Sotheby's International Realty, visit ttrsir.com.