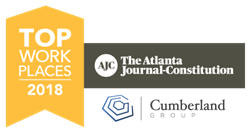 Great company cultures don't happen without commitment on everyone's part, so the biggest congratulations belong to our team.
Atlanta, GA (PRWEB) March 03, 2018
Atlanta-based Cumberland Group announced today it has been named a top 5 metro area workplace in the Atlanta Journal-Constitutions' 2018 Top Workplaces report. The 3-year-old IT consultancy makes its debut on the annual list at No. 5 within the small company division, or those with 149 or fewer employees.
The Top Workplaces list, now in its seventh year and administered by Energage LLC, is based solely on the results of an employee feedback survey measuring workplace culture. More than 2,300 companies were nominated for this year's list and more than 256 were surveyed. The final list of 150 was compiled based on those survey results.
"This is a huge honor, and an award we take to heart because we put a lot of effort into cultivating an environment that's both professionally empowering and enjoyable," said CEO and co-founder Patrick Hiller. "Great company cultures don't happen without commitment on everyone's part, so the biggest congratulations belong to our team. From the start, Cumberland Group has emphasized autonomy, personal responsibility, and trust, because satisfied clients start with employees who enjoy what they do."
The distinction is the result of detailed employee surveys that measure several aspects of workplace culture, including alignment, execution, and connection. Companies are first nominated based on employee responses to print and online solicitations by the Atlanta Journal-Constitution and its partner in the project, Energage LLC, (formerly Workplace Dynamics), which manages the survey.
"Top Workplaces is more than just recognition," said Doug Claffey, CEO of Energage. "Our research shows organizations that earn the award attract better talent, experience lower turnover, and are better equipped to deliver bottom-line results. Their leaders prioritize and carefully craft a healthy workplace culture that supports employee engagement."
The Atlanta Journal-Constitution published the complete list of 2018 Top Workplaces in Atlanta on March 1. More information about the list is available here.
About Cumberland Group
Based in Atlanta, Ga., Cumberland Group is the advisory and services firm companies turn to when their technology can't keep up with today's demands. We sit at the intersection of management consulting firms, technology manufacturers, VARS, and system integrators—a vantage that provides a broad perspective as we guide organizations making critical decisions for immediate improvement and long-term business goals. Our advice is tailored to our clients' goals; our integration, customized to their needs; and our solutions are developed specifically for their challenges. From strategic planning to precision execution, we do whatever it takes to help them prepare for whatever's next. Our combination of fresh perspective, deep resources, and turn-on-a-dime flexibility is why leading companies partner with Cumberland Group for their most challenging IT initiatives. For more information, visit http://www.cumberlandgroupIT.com, and follow us on Twitter @cumberlandGRP.