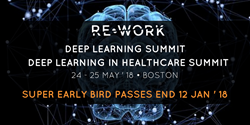 I got a valuable overview of what's currently happening in the deep learning space, with some useful insights into specific new developments; had many interesting conversations and met some great people.
BOSTON (PRWEB) March 06, 2018
This May in Boston, RE•WORK will host the fourth annual Deep Learning Summit & Deep Learning in Healthcare Summit sponsored by Qualcomm, Boxx and Indico. The event will bring together global leaders working in the field to disrupt their industries with AI for a positive impact. Throughout the event attendees will network with experts from the likes of Google Brain, Twentieth Century Fox, PayPal, MIT, Netflix and many more as well as participating in workshops, attending presentations, panel discussions and fireside chats.
Passes to the summit will allow attendees to access both events and the workshop track. On the healthcare track we'll explore deep learning tools & techniques set to revolutionise healthcare applications, medicine & diagnostics focusing on areas such as medical imaging, disease prediction and prevention and drug production. On the deep learning track discussions will look at recognising patterns in digital representations of sounds, images, & data, focusing on areas such as NLP, computer vision, reinforcement learning and more.
Discussing the deep learning opportunities in cancer imaging is Ahmed Hosny, Data Scientist at Dana-Farber Cancer institute who will explain how we extract the wealth of information from radiographic medical images for accurate non-invasive tumor characterisation. Recent advances in deep learning promise to impact multiple facets of the radiology profession to support clinical decision making. Ahmed will share a case study investigating the clinical utility of deep learning in the detection, segmentation and outcome prediction of cancer tumors.
Continuing the discussion on medical imaging, Polina Golland, Professor at MIT CSAIL will explore her work with computational tools that extract clinically important information from images enable development of novel biomarkers of disease, support surgical planning, and enable disease prognosis. This isn't only for tumors and the such like, but also for monitoring fetal development, looking into predicting stroke outcomes, and also exploring the current challenges in extracting clinically actionable information from images. Currently, it's incredibly time consuming for human workers to analyse images and extract data, so the AI systems are able to support and enhance the radiologists, improving efficiency and cutting costs.
Across on the Deep Learning track, Daniel Smilkov and Nikhil Thorat, Software Engineers at Google Brain will be presenting deeplearn.js, Google's new open-source javascript machine learning library. The accelerated machine intelligence library for the web will allow users to run, and even train, neural networks in a browser. Daniel and Nikhil will cover the 'technical magic that gives us GPU acceleration in the browser' as well as many applications ranging from education to on-device AI.
Also heavily investing in recommender systems are, Netflix, and in advance of the event we spoke with Anoop Deoras, Lead Researcher who will be presenting on 'Latent Models (Shallow and Deep) for Recommender Systems'. He explained that 'NLP and RecSys are applications of machine learning and more often than not, the underlying machine learning methodologies turn out to be similar. At Netflix, we strive to get our member's intent correct so that the time it takes to play something the member truly likes, is minimized. Intent detection then becomes the common machine learning problem, applicable to both NLP and RecSys.' Hear more from Anoop in Boston.
Additional confirmed speakers include Migues Campo, SVP of Data Science at Twentieth Century Fox Film, Nintin Sharma, Distinguished Scientist at PayPal, Sadid Hasan, Senior Scientist at Philips Research, Lukasz Kidinski, Researcher at Stanford University and many more.
Register before April 6 to secure your place with Early Bird discounted passes.