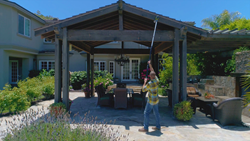 New invention SandReach quickly turns any palm sander into a pole sander.
IRVINE, Calif. (PRWEB) March 14, 2018
A southern California painting company called "Streamline Finishes," was faced with a daunting task in January of 2016, where they were asked to sand and resurface the outside portion of a multi-use housing project called "Cast Carousel," in Wilmington,California.
The city regulations forbid any of their workers to be more than 5" off the ground or use ladders in that area and in most cases the exteriors were over 12' feet off the ground and up to 16' off the ground. The only way to reach those areas would be to expensively rent a large construction lift or boom and task it with taking the worker up and down with a palm sander.
Bill Seidel, CEO & Owner of Streamline Finishes & co-founder of Sand Reach quotes "If I could just attach a palm sander to a pole and use the pole to get the sander to that hard to reach place I could make this work." Brian Nix, President of Streamline Finishes & co-founder of Sand Reach; decided to go online and search for any palm sanding accessories that would be able to hold a palm sander with a pole. To his surprise he found no compatible accessory that would allow a pole to attach to a sander in some way, so they decide to build it themselves.
From there the idea was born to create an attachment that universally fit to any palm sander and to safely hold it while sanding in the air with an attaching pole.
Surprisingly they were able to find more uses than one typically thinks of when it comes to palm sanding. SandReach gives users the ability to turn their palm sander into a pole sander to speed up their next decking, baseboards, trim, siding, facia boards, eaves, door casing or drywall project.
SandReach is now available to the public for use on DIY (Do It Yourself) or commercial palm sanding projects.
Learn more about SandReach by clicking here: http://www.SandReach.com