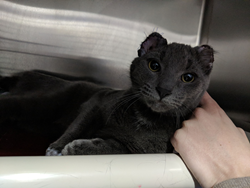 MOUNT RAINER, Md. (PRWEB) March 01, 2018
In January 2018, Alley Cat Rescue saved a tortured and mutilated cat who faced an uncertain fate at a local shelter. The cat had his ears cut and limbs and tail bound by an unknown animal abuser. He was quickly named Hardy after his courageous personality and ability to overcome hardships. After weeks of monitoring and care by Alley Cat Rescue, Hardy got a second chance at a happily ever after when he was adopted at the end of February.
Hardy went home with a loving and compassionate couple. Hardy's adopter says, "I don't have enough words to describe the happiness of bringing Hardy home. He had a hard start to life but we are excited to provide him with love."
Both of the adopters work in the veterinary field and will be able to provide Hardy with the long-term care he needs. Due to the weeks of torture Hardy suffered, he has lost the majority of his toes. Alley Cat Rescue Program Manager Niki Cochran states, "Hardy will likely be afflicted with arthritis, litter box issues and pain in his feet. Despite this, he should live a happy and healthy life with continued veterinary care."
Alley Cat Rescue will continue to focus on Hardy's case and is offering a $3,500 reward for information that leads to the arrest and conviction of the person or person(s) responsible. "Animal cruelty can be indicative of a violent personality. A person who commits such violent acts against an innocent cat could progress to hurting more animals or even people," Alley Cat Rescue Communications Associate Brianna Grant explains.
The Prince George's Police Department has recently opened up an investigation into Hardy's case and is offering a reward for information on this case. Anyone with any information on Hardy's case should contact the police department at 301-772-4911. If callers wish to remain anonymous they may call 1-866-411-8477.
About Alley Cat Rescue: ACR is a national nonprofit organization dedicated to the welfare of all cats: domestic, stray, abandoned, and feral. ACR advocates for humane nonlethal control of feral cats. ACR has been awarded the Independent Charities of America's "Best in America" Seal of Approval, and our newsletter has won several awards from the Cat Writers' Association. For more information, please visit our website http://www.saveacat.org.