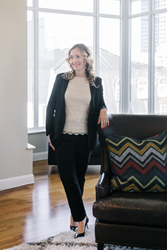 Danielle is the best-prepared, most data-driven and market-savvy broker with whom I have ever done business.
SAN FRANCISCO (PRWEB) March 05, 2018
Danielle Lazier has achieved No. 2 Top Producer status in the San Francisco Association of Realtors based on the number of residential sales handled and No. 8 based on the total dollar volume sold. In 2017 alone, she handled 76 closed transactions totaling more than $114 million in sales volume.
Originally from New Jersey via Dallas, Texas, Lazier moved to San Francisco in 1999 and began her real estate career in 2002. Establishing one of the first real estate blogs, http://www.SFhotlist.com — now featured on http://www.DanielleLazier.com—she quickly moved up the ranks to become one of the San Francisco Bay Area's leading real estate agents. Recently, she appeared on a panel featuring "Powerful Women in Real Estate" and has twice spoken at Inman Connect San Francisco.
Why Danielle Lazier is a Leading San Francisco Real Estate Agent
Lazier leads a team of real estate specialists who are driven by results and creating positive outcomes for clients. Last year, Danielle Lazier + Associates was awarded membership in the "Leading 100 Top Performers in Bay Area Real Estate" by RealTrends with a rank of 26 of all Bay Area real estate teams.
She is most proud of the way in which her team helps clients achieve their big goals and dreams. Whether it be starting a family in a home of one's own, maximizing a nest egg for retirement, or relocating to pursue something completely new, Lazier and her team recognize that, for many, their home is an important investment and requires diligent representation
The Testimonials Speak for Themselves
"Danielle sold our condominium located in Noe Valley. She is a complete professional...Overall, her marketing efforts went above and beyond what we could have expected. Our home sold for far more than what we expected, and I attribute this to Danielle's marketing. She and her team are also incredibly organized...On top of all of this, Danielle is a great person and, as you would expect, the people on her team are also very nice. I recommend Danielle for any real estate transaction in San Francisco. She is exceptional, and would be an asset to to anyone buying or selling real estate." - Zak M.
"Danielle is the best-prepared, most data-driven and market-savvy broker with whom I have ever done business. She has also managed to build along with her an organization that manages every step of the transaction. That made selling my home an organized, streamlined process. I'd recommend her to any seller of a San Francisco home." - Andrea C.
"Danielle and her team represented us in selling our Condo in the Mission District and buying a Single Family Home in Sunnyside. They delivered great results and made it as painless as possible for my family. When we found the home of our dreams, Danielle immediately got on it and our offer was accepted. Then, she and her team did a wonderful job preparing our condo to sell. I really believe Danielle's professionalism and reputation helped us to quickly seal the deal on our dream house and also to get very solid offers on our condo. I would definitely recommend Danielle and her team!" - Ms. Q.
Danielle Lazier is available for interviews, articles, and speaking engagements. Please reach out to the public media contact below for more information.
ABOUT DANIELLE LAZIER + ASSOCIATES
Danielle Lazier + Associates, in collaboration with COMPASS Real Estate, have represented buyers and sellers of San Francisco real estate since 2002. Read more at http://www.DanielleLazier.com.
Public Media Contact
Zena Ah Chin
Director of Operations
zena(at)daniellelazier(dot)com
m: 415.218.5347