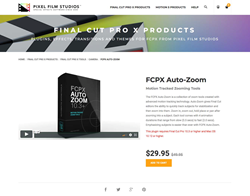 ALISO, VIEJO, Calif. (PRWEB) March 05, 2018
The FCPX Auto-Zoom is a collection of camera zooming tools created with advanced motion tracking technology. Auto-Zoom gives Final Cut editors the ability to quickly track subjects for stabilization and then zoom into focus. Auto-Zoom features options to zoom in, zoom out, hold place or pan after zooming into a subject. Each tool comes with 4 animation durations that range from slow (0.5 secs) to fast (2.0 secs) to allow for more precise timing control. Emphasizing subjects in cinematic zooming fashion is easier than ever with FCPX Auto-Zoom.
The FCPX Auto-Zoom takes advantage of Pixel Film Studios' motion tracking technology to track the movement of any subject. This allows users to bypass the tedious process of keyframing completely using options such as tracking forward, tracking backward and tracking multiple objects in a single scene. FCPX Auto-Zoom supports users by saving time editing and increase workflow speed using these innovative tools.
After tracking a subject, users can uncheck the Edit Mode checkbox to see the results of the zoom effect in real-time. FCPX Auto-Zoom will zoom into the subject or zoom out depending on the designated preset. Users can adjust the Zoom Depth slider to accurately alter how close the effect gets to the tracked area. Adjusting the offset sliders allows editors to move the framing point and create non-centered compositions.
With the use of one of the provided Zoom and Hold presets, users have the ability to zoom in and keep the camera framed onto the subject for any amount of time desired. Users can end the shot with the camera held in place or use a Zoom In, Hold and Zoom Out preset to seamlessly set the camera back to its original position.
By using the provided Zoom In and Pan presets, users can continue to zoom into the subject after the initial burst of animation to generate a more dynamic effect. With the adjustment of the Dolly Amount slider, users can control how quickly the tool zooms into the subject. The Speed Method can be changed to alter the animation interpolation of the zoom, allowing users to smoothly or abruptly move from the initial zoom to the continuous panning.
"FCPX Auto-Zoom allows me to draw the focus of the true subject of my clip with innovative tracking controls" says Josh - a video editing artist.
Established in 2006, Aliso Viejo, California-based Pixel Film Studios is an innovative developer of visual effects tools for the post-production and broadcast community. Their products are integrated with popular non-linear editing and compositing products from Apple FCPX. Apple, the Apple logo, Mac OS X, and Macintosh are registered trademarks of Apple Inc. in the U.S. and/or other countries. All other trademarks and trade names are the property of their respective owners.