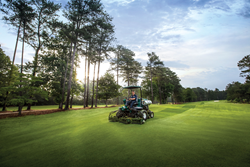 Not only is propane commercial lawn equipment greener, it can also help city, county, state and national parks save money
WACO, Texas (PRWEB) March 02, 2018
This past week, the Propane Council of Texas (ProCOT) participated in the Texas Recreation & Parks Society Expo in Waco to educate over 1,500 park officials from all over the Lone Star State on going green with cleaner-burning propane lawn equipment. Parks across the country from coast to coast are switching to propane commercial mowers because they reduce a community's carbon footprint and save taxpayer money.
The Texas Commission on Environmental Quality (TCEQ) found that an hour of gasoline-powered lawn mowing produces as much pollution as four hours of driving a car. Propane commercial mowers produce 40% less carbon monoxide and at a minimum 15% fewer greenhouse emissions. Additionally, because of its lower emitting technology, park operators can mow with propane on Ozone Action Days.
The Environmental Protection Agency (EPA) estimates that 17 million gallons of fuel, mostly gasoline, are spilled each year refueling lawn equipment. Parks don't have to worry about this with propane because it does not contaminate groundwater or soil and, additionally, propane has a closed loop refueling system.
"Not only is propane commercial lawn equipment greener, it can also help city, county, state and national parks save money," says Jackie Mason, Education & Marketing Director for the Propane Council of Texas, "Commercial propane mowers have reduced maintenance, longer engine life, and lower fuel costs with a contract saving money for parks and taxpayers."
One way park officials can make the switch to greener propane is through incentives from the Propane Council of Texas and Propane Education & Research Council. Between the state and national propane organizations parks can get between $1,500 -$2,000 to off-set the cost of upgrading.
To learn more about the propane lawn equipment incentives community and park officials can go to http://www.fuelingtexas.com.
About the Propane Council of Texas
The Propane Council of Texas is (ProCOT) is a 501 (c) 3 and the state arm of the Propane Education & Research Council (PERC). Our objective is consumer education, highlighting the benefits of home-grown propane and promoting clean-burning propane technologies.