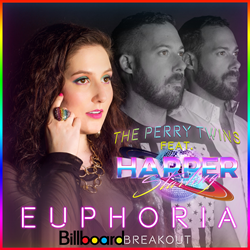 Give Me Euphoria!
LOS ANGELES (PRWEB) March 05, 2018
Capturing the pure joy of self-discovery and an empowering path forward, emerging pop/dance powerhouse Harper Starling joins forces with renowned, influential L.A. DJ/Production duo The Perry Twins to bring her intense excitement and "Euphoria" to dance floors across the globe.
The song is being released by Harper Starling in partnership with Lynn Verlayne Studio/Dauman Music as a bundle of eight tracks called "Euphoria: The Remixes." In addition to The Perry Twins Original Mix, the package includes a Perry Twins Club Mix, a remix, radio edit and instrumental version by Dan Thomas (Loverush uk. Moby, Raphael, and Ralphi Rosario) and two remixes by Dirty Werk (Kesha, Dave Aude). It officially received Billboard's #2 Breakout artist status on the Dance Club Chart on March 1st in it's first week in release.
Produced by The Perry Twins, "Euphoria" was penned by Harper, hit songwriter Kasia Livingston (Britney Spears, Whitney Houston, Flo Rida, Jessie J) and Lynn Verlayne Studio VP Michael Graye. It is the follow-up to her debut single "Disco Mirror Dream," which achieved several accolades by press and fans alike for her vintage pop sound & was remixed by Tomcat last year. Harper's upcoming debut EP Planet Disco will feature collaborations with Steve Daly (Pink), Scott Jacoby (John Legend, Coldplay) and Aimee Proal (Kelly Clarkson, Joe Cocker) among others. Planet Disco is also the name of her community of like-minded dance/party enthusiasts. The release of "Euphoria" coincides with an upcoming series of shows and appearances tied into the launch of Planet Disco. Harper's shows will feature choreography by Johnny Byrne (Florence + the Machine).
Driven by Harper's dynamic vision and real life experiences, the infectious, high energy song tackles deeper emotional issues than typical lighthearted dance-oriented flair. While listeners are captivated by phrases in the chorus like "Dancing on the ceiling," "Floating in the neon" and "Seeing is believing," Harper shares her deeper story in the lines "I'm not holding on to what's not holding me, "Cause I feel like the real me now" and "There is no one that can bring me to my knees." Connecting immediately with Livingston's similarly humorous personality, the singer felt free to share her deepest feelings in the verses once they had the concept and chorus down.
The Perry Twins, whom Harper met through Jason Dauman, President of Dauman Music, loved "Euphoria" instantly and took it from the status of "brilliant demo" to a dance floor worthy batch of powerhouse tracks. Doug and Derek Perry are identical twin brothers who started DJ'ing professionally while they were in high school. Since then, they have performed for audiences at parties and festivals all over the world and DJ'ed at the hottest clubs in Los Angeles, San Diego, San Francisco, Las Vegas, Seattle, Miami, New York City and many others.
The Perry Twins' remixes have helped many tracks reach the top of the dance charts, including those they've produced for Rihanna, Jennifer Lopez, Christina Aguilera, Troye Sivan, Justin Bieber, Kristine W, Tony Moran, Kelly Clarkson, and Beyoncé. As artists, they hit #1 on the Billboard Hot Dance Songs chart with "Bad Bad Boy" ft. Niki Harris and #3 with "Activate my Body" ft. Jania. They will also be DJ'ing at major Pride events in Mammoth, CA, Washington D.C. and Portland, OR, in addition to a carnival in Provincetown, MA.
"'Euphoria' is such a fun, uplifting song," says Derek, "and it's great to have a track nowadays that can get people feeling high with their spirits and using all that positive energy on the dance floor. It was exciting working with Harper and imagining how she was going to be inspiring people on the dance floor. She brought so much positive energy to our studio and we have all now become good friends."
Doug adds, "Even though it was a more mellow piano and vocal rendition, we loved the demo immediately and we began focusing on how we could make it a fun, bouncy dance song that reflected Harper's amazing images of dancing on the ceiling and floating in the neon. We love the lyrics. They're so motivational, with the first verse taking her from a place where she's dealing with something heavy and breaking through and elevating from there."
You can follow Harper on Instagram and Facebook and sign up for exclusive updates, planet disco playlists, and become a member of the "Rainbow Brigade" at her website - harperstarling.com