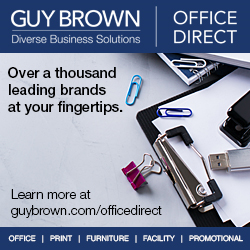 We're always finding new ways for companies to buy smarter, spend more efficiently and to help them reduce and control indirect spend
NASHVILLE, Tenn. (PRWEB) March 06, 2018
Today, Guy Brown, LLC, top 10 national distributor of office products, workplace supplies, office furniture and managed print services announced the release of Guy Brown Office Direct - an e-commerce marketplace for the business to business market nationwide. Guy Brown Office Direct is geared to delivering a consumer like procurement experience for business buyers, without sacrificing business to business procurement requirements.
As a leading national distributor of office products, Guy Brown's new e-commerce platform gives businesses access to more than 1000 brands in main-stream categories such as workplace and breakroom supplies, printer and toner supplies, office furniture and technology products. Developing a business to business e-commerce marketplace is a natural segue for Guy Brown, as the company has long been focused on finding "a better way to buy" for the company's Fortune 500 customers and SMBs. "We're always finding new ways for companies to buy smarter, spend more efficiently and to help them reduce and control indirect spend," said, Phil Markuson, Guy Brown COO.
Guy Brown's leadership has been anticipating the release of Guy Brown Office Direct and are looking forward to the benefits that it will bring to businesses of varying sizes. "All along the way, we've been helping companies of all sizes find ways to reduce, control and manage their costs and uncovering ways they can operate more efficiently," said, President and CEO, Tera Vazquez. "Now, with the new Guy Brown Office Direct, companies will have an easy to use tool to support long tail spend management initiatives. Plus, with Guy Brown Office Direct, companies can benefit from doing business with a certified tier 1 diversity supplier and minority and woman owned business."
The goal of the new Guy Brown Office Direct marketplace is aimed at making Guy Brown's cost saving services more easily accessible to businesses and providing them with an easier way to manage long tail spend. Guy Brown Office Direct offers business class purchasing, billing, invoicing, catalog and process controls, reporting and advanced analytics that today's businesses have come to expect in purchasing. The new e-commerce store is the first of two long tail spend management platforms slated for release in 2018 by Guy Brown. More information about the new B2B e-commerce marketplace is available on the company's website. http://www.guybrown.com/officedirect.
About Guy Brown, LLC: Established in 1997, Guy Brown, LLC started as a company selling remanufactured toner cartridges. Today, the company offers a suite of services to supply, furnish, maintain and optimize businesses. With a roster of customers from the Fortune 500 to local SMBs and greater than 200M in revenue annually, the company has a proven track record of providing a diverse range of tailored business solutions that help companies run more efficiently and profitably. Guy Brown is a certified Minority Women Business Enterprise, Small Disadvantaged Business, as well as a Woman Owned Small Business.