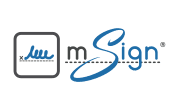 The newest version of our mSign product improves the way our customers and enterprise partners do business now and into the future
COLUMBUS, Ohio (PRWEB) March 06, 2018
Running a successful business can be daunting but Scriptel digitizing technology products aim to ease that burden.
"You must constantly measure, improve and course correct," explain Liam Brown, et al., in their Springer Int'l. Management for Professionals series title. The researchers' pleas emphasize the role technology plays in improving UX and efficiency levels.
"You must scan the technology horizon in order to respond to threats and take advantage of opportunities. (You must also) decide what to build and what to buy. And you must do all of these things—at the speed of business!"
eSignature technology by Scriptel Corporation helps enterprise users do just that.
"The newest version of our mSign product improves the way our customers and enterprise partners do business now and into the future," says Scriptel President & CEO Stephan Herron. "They're looking to capture high-quality digital signatures; we're looking to help them do that, in sensible and time-saving ways. That includes making sure our mSign software gets their businesses moving forward like never before."
The changes allow for untethered, USB-/cord-free signing capabilities with added layers of protection built in. The new version of mSign will be available at the App Store for Apple, Google Play for Android, and Scriptel.com on Mar. 7, allowing business users to:

Quickly sign up and get set to go mobile.
Leverage smartphones' existing capabilities.
Enjoy secure, reliable, end-to-end encryption.
Accept eSignatures in real time for improved UX.
Expand in-house document management options.
Those with multiple devices to install are advised to download the "Enterprise" edition.
"mSign works with our software-integrated application programming interfaces (APIs) to facilitate wireless communication across public and private networks," explains Steve Sedaker, Dir. of Strategic Marketing for Scriptel. "In a nutshell, it allows you to use your Android or iOS mobile device to perform functions like those enabled by our USB-connected signature capture pads—but without being tethered to a desktop."
"The app works equally well in place of or alongside our USB-equipped signature pads, such as the ScripTouch Compact LCD ST1550. It does that by allowing business users to run multiple applications simultaneously without worrying whether there's a capacitive touch screen or electronic signature pad nearby or available for use."
"That's a boon to large enterprises whose staff members can now switch from one interface to the other and go mobile in the click of a button. You simply have to experience it!"
Forward-thinking is second nature at Scriptel, which dominates the digitizing hardware and software markets. Its rugged, reliable capacitive touch screen and electronic signature solutions have a decades-long reputation for outpacing the competition in clinical care, retail Point-of-Sale, and other dynamic environments.
"Upgrades like these are par for the course," notes Herron. "Our software team works tirelessly to meet the ongoing digital workflow and paperless technology needs of our enterprise users, Independent Software Vendors, and distribution partners worldwide."
"With this launch, mSign users will benefit even further from our Industry Best service and robust Android, iOS, and Web browser, support. We'll also be rolling out enhanced features, accommodating for variations in screen size, resolution, color, and aspect ratio."
Learn more about mSign's new features, functions and system requirements at Scriptel.com. Or by calling the company's Sales Team at (877) 848-6824. Enterprise users who can't wait to go mobile can download a 14-Day Trial online.
Get started for FREE at Scriptel.com/products/mSign.
###
SCRIPTEL CORPORATION leads the way by advancing rugged, reliable eSignature and signature capture technology. Our Citrix Ready, plug-and-play hardware and software solutions make easy work of document signing, electronic recordkeeping and practice management in Dental, Healthcare, Retail, Tax Prep and other dynamic environments.
Scriptel (est. 1982) has a history of leading through innovation, bringing the first peripheral to mimic superior pen input on an LCD screen to market. Today we produce and provide unmatched support for a full suite of ScripTouch® signature pad and workflow products, including EasyScript™, ProScript™ and mSign®.
Scriptel is based in Columbus, Ohio, and has deployed more than 3 Million products worldwide. Which of our hardware and software solutions best suit your needs? Find out! Request a 30-Day, Risk-Free Trial at Scriptel.com.
Copyright © 2018. Scriptel®, ScripTouch®, Assist™, EasyScript™, mSign®, OmniScript™, ProScript™, StaticCap™, and Sign and Save™, along with their associated logos, are the property of Scriptel Corporation.