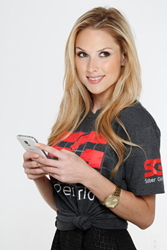 "As the financial expert on Sober Grid's Advisory Board I will be looking to see how we can incorporate blockchain and cryptocurrency offerings as a reward within contingency based management practices."
NEW YORK (PRWEB) March 05, 2018
Jason Abate, DBA, announces today that he is now an advisory board member of Sober Grid, a first-of-its-kind mobile app designed as a resource to support users to live sober and healthy lives. Dr. Abate has joined the advisory board to utilize his background in leadership technology to create positive social change and help find solutions for this incurable disease while seeking to drive solid financial returns.
"I am thrilled to have the opportunity to join an innovative team that is coming together to address this deadly disease," says Abate. "Sober Grid is bringing together those impacted most by addiction and is creating a community of people who share the same passion and troubles, allowing these people to help one another most. As the financial expert on Sober Grid's Advisory Board I will be looking to see how we can incorporate blockchain and cryptocurrency offerings as a reward within contingency based management practices."
For additional information about Dr. Abate and Sober Grid, please visit http://www.sobergrid.com and Dr. J
About Dr. Jason J. Abate
Dr. Jason Abate, currently holds the position of Vice President and District Manager of one of the nation's largest banks. In this position, Abate, has been responsible for retail sales and service of over a dozen banking centers, approximately 150 employees and $1.3 Billion in deposits. As a 13-year veteran of this bank, he previously held the position of Retail Leader for a bank acquisition for the bank in Texas. In that role, Abate, led the post-acquisition of the newly formed division of the Bank overseeing the retail reorganization to fully integrate into the Texas market. Specifically, he oversaw the development and leadership of all retail sales and customer service banking activities, including overseeing the banking centers and retail employees.
Prior to joining his current bank, Abate, managed several of the branches of Charter One Bank also known today as Citizens bank, part of the Royal Bank of Scotland, a global banking network
Abate takes pride in his strongest passion, which is for teaching and mentoring. He has been an adjunct Professor for Kaplan University, teaching several business and management courses over the past thirteen years. He is also a school board member for the Canton Charter Academy which is for grades K-8 in Canton Michigan.
Abates publications include a book he co-authored titled You Will Overcome. His research publications consist of research conducted using a quantitative correlational study to establish if generational affiliation, burnout, job satisfaction, and time on job predict turnover intention within the retail banking industry in the United States. Additionally, in 2011, he was recognized as one of Michigan's '30 in-their-Thirties' from dbusinessMagazine.
Abates current education includes a Doctorate of Business Administration (DBA) with a specialization in leadership from Walden University. He earned a Masters of Business Administration with a specialization in global management from the University of Phoenix as well as a Bachelor of Arts in Political Science from the University of Michigan. His most recent educational pursuits include post graduate professional development in strategic business management from Harvard University in Cambridge, Massachusetts.