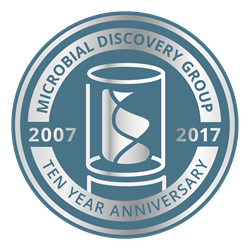 FRANKLN, Wis. (PRWEB) March 06, 2018
Microbial Discovery Group LLC (MDG) announces its tenth anniversary of business in offering a variety of different Bacillus-based products and services. Founded in October 2007, MDG broke ground on its main facility in February 2008. Over the last ten years MDG has expanded to a second facility in Oak Creek, WI to accommodate a workforce that has grown to over 12 times its original size. What started as a team of 3 people with a dream has evolved into a company of 38 individuals broken up into dynamic teams of researchers, production staff, quality control, sales, and more. MDG is proud to provide solutions that work from people who care.
"Together, what an amazing burden we must bear to provide solutions in a world full of complex challenges. Who knew we would be a part of the antibiotic free revolution, grow human probiotics, be asked to develop high throughput pathogen testing systems, find soil bioremediation solutions, and even isolate bacteria that digest the plastics in landfills," said Mike King, MDG CEO. "As I look back on this past decade, I feel so fortunate and humbled to reflect on the amazing relationships that have been built, our culture, our shared values, our incredible "why" that gets us out of bed each day, and our passionate pursuit to explore all of what's possible in the world of microbial discovery."
Over the last decade, MDG has differentiated itself as a leading Bacillus manufacturer that delivers a line of high-quality, field-tested products and comprehensive programs built for ease-of-use with customer's reputations at the forefront. MDG's ability to engineer solutions based on customer's specific needs has helped the company to continually grow over the past 10 years, and offers promise for future growth.
###
About Microbial Discovery Group
Microbial Discovery Group is a Bacillus fermentation company focused on the commercialization of microbials for wastewater, bioremediation, aquaculture, consumer and institutional markets while additionally partnering with customers to fulfill their custom fermentation needs. MDG refines and delivers products and ideas by applying Real Science to a Trusted Process, yielding Proven Success. For more information on Microbial Discovery Group, visit http://www.mdgbio.com.