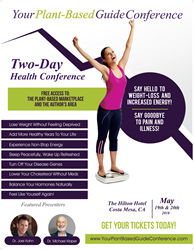 "Everything you choose to put in your body is either preventing or promoting disease. There's no grey area so choose wisely." Gina Bonanno-Lemos
Costa Mesa, CA (PRWEB) March 19, 2018
Your Plant-Based Guide Conference was created by award-winning author, Certified Plant-Based Nutrition Specialist, and 360 Health Connection founder, Gina Bonanno-Lemos, in an effort to save lives and save the planet. Ms. Bonanno-Lemos recognized the need for affordable, fun, and in-depth training for those seeking to transition to a plant-based diet after receiving feedback from many who felt excited but lost and alone after attending veg fest events.
Attendees at Your Plant-Based Guide Conference, scheduled for May 19 and May 20, 2018 in Costa Mesa, California, will experience two full days of presentations and nutritional training provided by 12 world-renowned physicians, celebrity weight-loss, fitness, and health experts, a climate change expert, and others. Featured presenters include industry powerhouses such as Dr. Joel Kahn, Dr. Michael Klaper, Dr. Brooke Goldner, Robert Cheeke, Ocean Robbins, Ella Magers, and others.
The Plant-Based Marketplace is one of two free and open areas of the conference where both ticket holders and the general public can sample and purchase new and delicious plant-based products. Likewise, both ticket holders and the general public have access to the Author's Area, where presenters will sign and sell their books as they meet and speak with attendees. Ticket holders are invited to mingle with conference presenters at the Saturday night dance party and enjoy a relaxing Sunday morning yoga class, at no additional charge. Conference attendees will also be provided with numerous training e-books and one month of plant-based recipes - practical tools that will guide them to a sustainable and health-filled vegan lifestyle after the conference has ended.
Your Plant-Based Guide Conference is for anyone interested in boosting their metabolism for rapid and long-term weigh-loss, preventing and reversing disease and chronic illness, increasing their energy level, living without aches and pains, and discovering how to maintain or build muscle with plant foods. Both existing plant-based dieters as well as the vegan novice will benefit from the life-saving information and new scientific findings shared at this unique, two-day health event and mini vegan festival.
For media inquiries and press pass availability contact the event organizer.
360 Health Connection is a vegan health coaching company and blog created to help people achieve optimum wellness with the power of plant-based nutrition and other lifestyle choices with a direct affect on the epigenome.