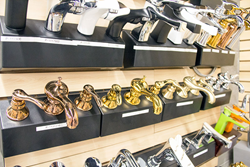 The faucets will add new options for full remodels, improvement of sinks and tubs, and other renovations and installations
LOS ANGELES (PRWEB) March 05, 2018
Polaris Home Design has announced the arrival of a new in-house line of bathroom faucets and kitchen faucets, available immediately from the Polaris Home Design showroom in North California. The new product lines include single-hole faucets, 8" widespread faucets, and pull-down faucets designed to meet a wide array of interior design goals and aesthetics.
The single-hole faucets are available in styles tailored to kitchen or bathroom sinks and feature a single structure implementing the spout and handle together. The top-mounted control handle adjusts temperature and flow and has long been the standard for kitchen faucets and an increasingly modern trend in bathroom design.
The line of 8" widespread faucets also feature variants suitable for kitchens or bathrooms. With these faucets, multiple holes are used to separate multiple handles for hot water and cold water, with a centrally located tap. These are a long-time standard for use in bathrooms and kitchens and offer more granular control over both flow and temperature of the water.
Polaris' final set of faucets are pull-down faucets tailored for use in the kitchen, offering the versatility of a kitchen house-tap while sidestepping issues such as uncontrolled spray. The special design allows for the faucet head to be pulled down and away from the fixed structure, allowing unprecedented control over the direction and angle of water flow.
"This line of faucets joins the existing selection of kitchen and bathroom product lines available from our store," said a company spokesperson for Polaris Home Design. "The faucets will add new options for full remodels, improvement of sinks and tubs, and other renovations and installations." Polaris also offers products from local home décor manufacturers, several in-house lines, and custom fabrication services to meet specific needs.