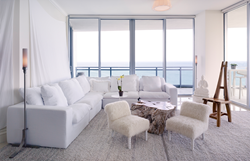 "I prefer not to rush, but our client's deadlines were exponentially higher than usual..." BNO
MIAMI (PRWEB) March 14, 2018
BNOdesign and Delano Production Design are combining decades of renowned expertise and resources to form EPHEMERAmiami, which offers custom design and installation services for busy, active clients who need high-end immediate living or work environments.
This new venture, conceived by individually acclaimed partners Benjamin Noriega Ortiz and Devin Delano, is the result of a demanding and time-constrained project that brought the two designers together. Services offered by EPHEMERAmiami are available throughout the United States, Europe, and Latin/South America.
A couple that owns homes in Los Angeles and Melbourne, Australia had trusted BNOdesign with those upscale projects and again called on the firm to help with a new, temporary residence in Bal Harbour, FL. This Ritz Carlton property, just minutes from the heart of Miami Beach, and offering panoramic aquamarine views of the Atlantic Ocean, would be their temporary home while they waited to begin a new chapter in their lives. They didn't know how long they would stay in the three-bedroom, four-bath space. But they did know the BNO trademark style in their other properties would help make this one feel like home too. And they needed it immediately.
"I prefer not to rush, but our client's deadlines for designing and installing were exponentially higher than usual," said interior designer Benjamin Noriega-Ortiz of BNOdesign. "The only way to meet these goals was to work with a partner whose team I knew was accustomed to bringing the impossible to life."
BNO enlisted Devin Delano and Delano Production Design, a design veteran with 25 years of special events and television experience in NY, LA, and Miami. Delano's vast background includes Television Renovation Shows, Fashion Shows, Broadway Openings, and other demanding Live Events, that usually require an installation in less than 24 hours.
"With live events and television shows, our budgets and installation demands are much higher than regular design projects," Delano said. "After working together to design and produce a high end residence in record time, we decided to launch EPHEMERAmiami, a new business that will offer clients our combined expertise and resources for any interior design need. The business is based out of Miami, while we keep our headquarters in Manhattan, so we work and travel everywhere in and out of the United States."
BNO capitalized on the clients' temporary use of the condo space and developed a "Tent Concept" featuring free-flowing fabrics and other soft, whimsical elements. The teams' reliance on local vendors to secure furnishings helped accommodate the urgency their deadlines demanded. Accessories from Restoration Hardware, Kartell, Modani, West Elm, CB2, and local stores in Miami's design district complemented more substantive pieces from Clima Home, Jalan Jalan, Living in Art, and Nisi B Home, among others. In addition, some of the clients' unique pieces were flown in from California and Australia, adding a more complete and personal touch. These included BNO custom-designed floor lamps, a set of rare Billy Haines elbow chairs and re-purposed organza drapes.
Noriega-Ortiz drew inspiration for the apartment's open and flowing design from his view outside BNOdesign's Manhattan office of Santiago Calatrava's stunning Oculus at the World Trade Center Transportation Hub.
"We're fortunate to be able to meet with clients, work with our staff and design our many residential and commercial hotel projects overlooking such an inspirational and unique structure," Noriega-Ortiz said. "And, really, the environments we find ourselves in are often the best source of ideas and inspiration when we take the time to notice and appreciate them."
For more information on EPHEMERAmiami, the new design company founded by Benjamin Noriega Ortiz and Devin Delano, contact 212-343-9709, or email benjamin(at)bnodesign(dot)com, or devindelano(at)gmail(dot)com.