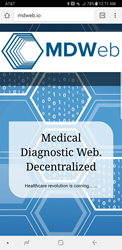 There is no doubt that blockchain technology will revolutionize healthcare in a profound fashion quickly and we are proud to contribute to this revolution.
LAS VEGAS (PRWEB) March 06, 2018
USARAD Holdings Inc., the leading US Joint Commission Accredited teleradiology and telemedicine company backed by Siemens Healthineers and several healthcare VC firms announces at HIMSS 2018 Annual Conference (Las Vegas, NV) its participation in a revolutionary Blockchain project named MDW.io to support Imaging facilities, radiology groups, solo radiologists, payors, Artificial Intelligence Companies, consumers and other stakeholders. MDW.io is a decentralized autonomous healthcare platform with main purpose to facilitate remote medical diagnostic consultations including radiologic as well as other diagnostic interpretations and second opinions, peer reviews, primary and preliminary teleradiology interpretations as well as synchronous and asynchronous telemedicine visits. Consultations and reports can be produced by medical professionals and/or algorithms (in the future) within any area of medicine and especially image-rich diagnostic specialties such as radiology (initially), cardiology, dermatology, ophthalmology and pathology.
MDW.io platform provides all participating stakeholders with a secure, simple and cost effective way to conduct healthcare transactions. The platform offers an efficient way to harness the power of community to generate interpretations and consultations through the use of blockchain technology. It enables any party, including patients/consumers, referring physicians, radiologists, diagnostic facilities as well as insurance companies to request interpretations from platform participants and through execution of smart contracts insure immediate payments to one or multiple parties, for example those who improve on the original interpretations.
There is a large demand from AI companies for certain data including specific studies, views or sequences for the purpose of creation of specific machine learning algorithms. Therefore additionally, qualified platform participants are able to sell anonymized medical data to artificial intelligence companies. At the same time qualified participating radiologists and other experts are able to annotate the images and label pathology to facilitate creation and improvement of existing AI algorithms. Interpreting radiologists are given a unique opportunity to provide these value-added services in an efficient manner and earn additional compensation.
The platform tackles several important problems in the industry which teleradiology and telemedicine platforms alone cannot resolve due to fragmented nature of healthcare industry. Via crowdsourcing, the platform addresses worsening global shortages of generalist and subspecialty radiologists and other specialists. These shortages result in unacceptable report turn-around times for both urgent and routine cases including second opinions. Proprietary "crowd-reading" algorithms and second opinion technology addresses preventable diagnostic medical errors which contribute to death and injury of thousands of Americans every year. In fact it is well publicized that medical errors are now considered to be the third leading cause of death in the United States.
Michael Averbach, CEO and Co-Founder of MDW.io said: "There is a fundamental paradigm shift that is occurring in front of our eyes. We are not building another blockchain project in search of a business model, instead we are leveraging blockchain technology to deliver substance to various stakeholders in the existing and highly transactional business model of radiology. There is no doubt that blockchain technology will revolutionize healthcare in a profound fashion quickly and we are proud to contribute to this revolution." Michael Yuz, MD MBA, CEO of USARAD added: "There is a significant shortage of radiologists and other specialists with resultant serious issues with quality, medical errors and unacceptable report turn-around-times. MDW.io clearly resolves these challenges via crowdsourcing and streamlined financial transactions as well as empowers a company like USARAD whose mission is to improve the quality of care and patient outcomes, as well as decrease healthcare costs, while expanding services in the USA and globally."
Key Points:

Medical Diagnostic Web (MDW.io), a decentralized autonomous organization operating first of its kind Blockchain based platform for Radiology to go live by Q3, 2018.
Opportunities to join the platform and participate in pre-launch discounts are available at this time, with initial radiologic reads guaranteed by USARAD Holdings Inc, if required.
The platform to alleviate global specialist shortages and decrease medical errors in the fragmented and competitive healthcare environment via crowdsourcing of specialist talent and medical diagnostic "crowd-reading".
Industry specific cryptocurrency to facilitate smart-contract transactions and exchanges between various stakeholders.
Radiologists and other specialists to receive immediate payments for their services
Support for Artificial Intelligence companies with access to virtually unlimited volume of radiological and other medical diagnostic data.
The access to the radiologic data as well as to radiologists and other medical specialists providing annotations is available effective immediately. AI companies are encouraged to inquire.
About us:
About USARAD Holding Inc. including SecondOpinions.com®
USARAD Holdings, Inc. is a global telemedicine company consisting of two operating divisions – USARAD and SecondOpinions.com®. USARAD is a radiology services provider offering interpretations of a full range of sub-specialty and general radiology patient studies. With an existing advanced technology network connecting medical facilities to board-certified radiologists and support staff, USARAD offers radiology services in all 50 states as well as more than 15 countries. Via its unique Radiology-On-Demand® platform, USARAD is committed to providing timely and responsive image review 24/7. SecondOpinions.com® is a medical consultation and second opinions leader providing health care customers, physicians and consumers with expert opinions from all medical specialties and sub-specialties. SecondOpinions.com®, which currently conducts business in more than 80 countries, also contracts with insurance companies, corporations, and medical centers of excellence. USARAD is backed by Siemens Healthineers, Omphalos Venture Partners and Excelerate Health Ventures. For more information please visit http://www.usarad.com and http://www.secondopinions.com or email info@secondopinions.com
About MDW Platform (MDW.io)
Medical diagnostic web (MDW.io) is first of its kind decentralized autonomous organization operating Blockchain based platform which utilizes smart-contract to facilitate complex B2B and consumer transactions between various stakeholders in radiology field. MDW.io designed to facilitate remote medical diagnostic consultations including radiologic and multispecialty second opinions, peer reviews, primary and preliminary teleradiology interpretations as well as synchronous and asynchronous telemedicine visits. MDW puts patients in forefront of their diagnostic health records by allowing patients and their diagnostic providers to upload findings in a secure, anonymized manner to be further evaluated by the community. For more information please visit http://mdw.io or email: mja@mdweb.io