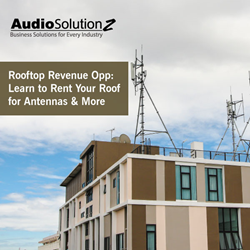 Take advantage of a lucrative trend: Rent out your rooftop for a variety of uses including cell tower platforms and even solar power farms.
DURHAM, N.C. (PRWEB) March 06, 2018
AudioSolutionz, a division of corporate education leader ProEdTech, will host the live webinar "Rooftop Revenue Opp: Learn to Rent Your Roof for Antennas & More" with industry veteran Michael D. Bickford on Tuesday, March 20, 2018 at 1:00 pm ET. Building owners and managers are taking advantage of a lucrative trend: renting out their rooftops for a variety of uses including cell tower platforms and even solar power farms. Don't miss out!
If you're like most building owners and managers, you're probably focused on generating revenue from the apartments, hotel rooms, or offices that you rent out. But what about all that vacant, unused space on your building's rooftop? Don't neglect the potential here.
Learn how you too can cash in on rooftop revenue opportunities in this information-packed audio conference. Join marketing and management expert Michael Bickford as he walks you through the tips and tricks to rooftop leasing. You'll learn the steps you can take today to make your rooftops more marketable—as well as everything you need to know about the rooftop leasing process.
AT&T Wireless has announced that it will increase spending on network capital improvements including new antenna leases in 2018: Get your share of that money for your building! After attending this educational session, you will be well equipped to turn to rooftop leasing for extra, recurring revenue. You'll get the tools to understand how all the moving parts come together to make you more money.
The session will help builders, property owners, and managers—as well as asset managers, COOs, CTOs, and IT professionals—to unlock hidden revenue opportunities. You will learn to:

Understand all the nuts-and-bolts of rooftop leasing
Identify potential tenants for your rooftop
Gauge whether your building is a good prospect for generating rooftop revenue
Determine how much to charge rooftop tenants each month
Unlock the 5 secrets to successful rooftop leasing
Improve your chances in securing rooftop revenue
Get started on the 5 things you can do today to improve your rooftop leasing success
For more information and to register, visit: https://www.audiosolutionz.com/public-housing-compliance/rooftop-revenue-opportunities-rent-roof-antennas.html
Get $30 off on our conferences and webinars. Use Code PRWEB30 on checkout (applicable for all purchases).
About ProEdTech
ProEdTech is a leading source of knowledge and training for professionals in over 15 industries, serving individuals, businesses and their employees around the globe. It offers webinars, online conferences, seminars, boot camps, books, DVDs, white papers, industry reports and other learning tools from industry experts and insiders who provide a fresh perspective on key issues, trends and regulations in order to simplify governance, risk and compliance (GRC) for enterprises and industry professionals.
ProEdTech's AudioEducator webinars offer updates, regulatory knowledge and information on the latest news in various medical specialties, as well as coding and billing updates, and analysis of regulations that affect ambulatory surgical centers, home health, long term care and hospice facilities, hospitals and healthcare systems, health insurers and physician practices. Webinars are also offered through AudioSolutionz in the technology, human resources, construction and housing, ICT and telecom, manufacturing, consumer packaged goods and retail, safety and security, transportation, energy and environment, education, trade, and chemicals industries. ProEdTech's Eli Financial platform offers tax and banking professionals, focusing on providing high-quality online training products customized for U.S. lenders and tax practitioners that include the latest updates from the IRS, CFPB and other regulatory authorities. ProEdTech regularly provides professionals the opportunity to get answers to their most complex questions directly from experts, without having to attend costly live conferences. To learn more, visit: http://www.proedtech.com/.