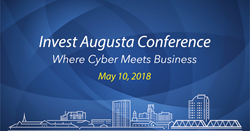 Augusta's workforce, cyber expertise, and startup ecosystem position Augusta as a global leader in cyber security. I encourage business leaders to take advantage of the opportunities available at the Invest Augusta Conference to connect with the cyber security professionals in the region.
AUGUSTA, Ga. (PRWEB) March 07, 2018
The Invest Augusta Conference will be held on May 10th, 2018 at the Legends Club in Augusta,GA to showcase the business leaders, investors and companies who are driving cyber business in Augusta.
Conference speakers from US Cyber Command, Chamber of Commerce, Fort Gordon Cyber District, Augusta University, Morris, Manning & Martin, and more will take the stage to discuss cyber and business.
The Conference also showcases tech startup companies from throughout the Southeast who will demo/pitch their products and services.
"Augusta's workforce, cyber expertise, and startup ecosystem position Augusta as a global leader in cybersecurity," said Invest Augusta founder Tony Lever. "I encourage entrepreneurs, investors and business leaders to take advantage of the opportunities available at the Invest Augusta Conference to connect with the cybersecurity leaders in the region."
You can learn more about Invest Augusta 2018 by going visiting https://investAugusta.com/conference or following Invest Augusta on Twitter @investAugusta
LOCATION:
Invest Augusta Conference
May 10th, 2018
The Legends Club
2701 Washington Rd
Augusta, GA 30909