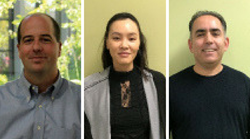 Yorba Linda, CA (PRWEB) March 06, 2018
Advances in mass spectrometry instrumentation and sample handling methods have propelled proteomics and extended its utility for both basic biology and early drug development. Changes in protein abundance and post-translational modification state often reflect the activity of a novel therapeutic agent as well as the sensitivity/resistance of a biological system to treatment.
In this webinar, which is sponsored by Cell Signaling Technology, speakers will address post-translational modifications; methods to enrich modified peptides from complex mixtures have played an important role. Chief among these is immunoaffinity enrichment, where antibodies directed against post-translational modifications (or remnants thereof) are used to capture analytes of interest for mass spectrometry analysis.
To expand upon these methods, the speakers will report on an automated PTMScan® immunoaffinity enrichment protocol, developed using the Phynexus MEA benchtop robot, for concurrent processing of up to twelve samples. System optimization has included interrogating the effects of peptide incubation, washing, and antibody-resin crosslinking on the sensitivity and specificity of this automated method.
Through this webinar, attendees will discover how benchtop robot automation of the PTMScan® immunoaffinity enrichment protocol enables concurrent processing of 12 samples. They will also learn of the utility of the PTMScan® method for early drug discovery, and the future of automation in multiplexed analysis of cellular signaling.
The speakers for this event will be Dr. Matthew P. Stokes, group leader of Proteomics Products and Services at Cell Signaling Technology; Lilian Phu, a senior scientific researcher in Microchemistry, Proteomics & Lipidomics (MPL) at Genentech; and Dr. Don Kirkpatrick, an associate director and principal scientist in Microchemistry, Proteomics & Lipidomics (MPL) at Genentech.
LabRoots will host the webinar March 27, 2018, beginning 9:00am PDT, 12:00pm EDT. To learn more about this event and speakers, the continuing education credits offered, or to register for free, click here.
About Cell Signaling Technology
Cell Signaling Technology is a private, family-owned company, founded by scientists and dedicated to providing high-quality research tools to the biomedical research community. The company's employees operate worldwide from its US headquarters in Massachusetts, and offices in the Netherlands, China, and Japan.
About LabRoots
LabRoots is the leading scientific social networking website, which provides daily scientific trending news, as well as produces educational virtual events and webinars, on the latest discoveries and advancements in science. Contributing to the advancement of science through content sharing capabilities, LabRoots is a powerful advocate in amplifying global networks and communities. Founded in 2008, LabRoots emphasizes digital innovation in scientific collaboration and learning, and is a primary source for current scientific news, webinars, virtual conferences, and more. LabRoots has grown into the world's largest series of virtual events within the Life Sciences and Clinical Diagnostics community.