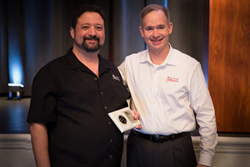 Donna, my operations manager, and I have very high standards for every member of our team and we manage our workforce very closely and we never compromise on integrity. Those efforts have helped us build a reputation, which has helped us stay in the Top 10. - Bruce Treadway
Chicago, IL (PRWEB) March 05, 2018
Caring Transitions, America's largest resource for managing senior relocations as well as downsizing and estate liquidations, is pleased to announce that Caring Transitions of Northern Illinois has been awarded one of the company's national Top 10 Awards. Caring Transitions of Northern Illinois is the company's first franchise and it is locally owned and operated by Bruce Treadway. The award was presented at the company's national conference on February 9, 2018.
Caring Transitions Chief Operating Officer Al Scobell said Treadway's consistent commitment to serving the community, providing top-notch service and building an efficient team consistently keep him in the Top 10 year after year.
"As our most seasoned Caring Transitions franchisee, Bruce continues to push the envelope as a top revenue producer and driver in the Caring Transitions system. His steadfast focus on growing the business by building trust and developing relationships is a model for franchisees throughout the system and we were pleased to recognize him this year," Scobell said.
Caring Transitions is a national franchise in more than 200 markets. Caring Transitions of Northern Illinois' specially-trained team can handle organizing, packing, de-cluttering, moving, resettling, in-person and online estate sales, liquidations and preparing homes for market. Caring Transitions specializes in managing senior relocations, but the services are also perfect for busy families and individuals in need of assistance. Caring Transitions of Northern Illinois serves the North Shore, Northwest Suburbs and McHenry County.
"I'm focused on being profitable year after year by building a company with trust and integrity. Donna, my operations manager, and I have very high standards for every member of our team and we manage our workforce very closely and we never compromise on integrity. Those efforts have helped us build a reputation, which has helped us stay in the Top 10," Treadway said.
Caring Transitions' services are perfect for seniors moving in with family or into a safer living situation as well as busy families and people clearing out the home of a loved one who has passed. All of Caring Transitions' services are customizable, so clients only pay for the services they need – whether that means managing the entire move and estate-clearing or just getting someone resettled into their new place.
Caring Transitions of Northern Illinois is bonded and insured and all W2 employees have been background-checked. For additional information about Caring Transitions of Northern Illinois, call 815-308-5532 or 847-278-0434 or visit http://www.ctnorthern.com.