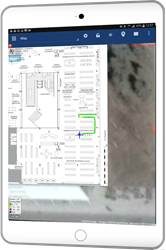 GREENBELT, Maryland (PRWEB) March 06, 2018
TRX Systems announces collaboration with Keysight Technologies, a leading technology company that helps enterprises, service providers, and governments accelerate innovation to connect and secure the world, to deliver an innovative solution that provides automated location information used to create geo-referenced signal data for in-building network verification and validation. With this new integrated TRX and Keysight solution, customers can seamlessly collect wireless network measurements and perform analytics for performance verification in commercial and public safety networks.
This powerful new solution integrates TRX's patented NEON® 3D Location Service with Keysight Technologies' Nemo Handy and Nemo Walker Air solutions, two of the world's most widely used test tools, and provides users with smart and easy-to-use solutions for advanced measurement and optimization. TRX's NEON Location Service automates geo-referencing of data collected by the Keysight Nemo solutions, removing the need for frequent manual check-ins and simplifying the overall data collection process.
Integrating TRX NEON technology with Keysight Nemo Handy or Nemo Walker Air allows users of the combined solution to:
•Automatically calculate indoor position and correlate with collected RF signal data
•Collect actionable data, pinpointing faults in the in-building RF network, including stairways
•Gather RF testing data with a high density of geo-referenced data points
"The integration of TRX's NEON Location Service with our worldwide leading Nemo Handy and Nemo Walker Air solution will dramatically reduce the time and complexity to optimize, troubleshoot, and fine tune indoor network performance," said Alex Chua, Director of Product Management and Business Development at Keysight Technologies. "We are excited to collaborate with Keysight and offer this carefully integrated and highly optimized new solution," said Jeff Kunst, Vice President of Product and Business Development at TRX Systems.
To learn more about the solution, please contact TRX Systems, see video at https://youtu.be/xAuszBQCvL4 or visit TRX at IWCE on March 7th and 8th at the Orange County Convention Center, Orlando, FL (Booth 3444).
About TRX Systems
TRX Systems is the developer of the NEON® Indoor Location Solution, delivering location and mapping indoors, underground and in dense urban areas where GPS is not available or is unreliable. NEON delivers ubiquitous, low-cost, 3D indoor location through the use of advanced sensor fusion, ranging, and patented dynamic mapping algorithms. NEON patented location technology provides the foundation for a number of commercial applications including NEON Personnel Tracker, NEON Signal Mapper and NEON Squad Tracker.
TRX Systems is the recipient of the Silver Edison Award for Innovation in the Navigation and Robotics category, the Tibbetts Award given by the U.S. Small Business Administration for Innovation and Economic Impact of Research and Development, the TEDCO ICE Award for Corporate Excellence and the Innovator Award from the Chesapeake Regional Tech Counsel (CRTC). TRX's indoor location software development has been supported by the National Science Foundation, the Defense Advanced Research Projects Agency (DARPA), the U.S. Army, and the Department of Homeland Security.