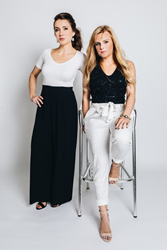 It is our job to continue listening to our customers' needs and expand our services to Austin
NASHVILLE (PRWEB) March 07, 2018
Nashville-based digital live music booking company EVAmore (Events, Venues, Artists & more) whose award-winning online digital platform automates booking live entertainment announced big plans for their return to SXSW 2018 including an expansion into the Austin market. Their SXSW presence will include sponsorship of The Nashville House - Rooftop Party on March 14th featuring a showcase of 25 top live music acts from Nashville; EVAmore COO Makenzie Stokel is a SXSW Mentor; plus EVAmore will be taking meetings with Top Destination Management Companies, Corporate executives, and Event / Wedding Planners while in Austin.
"As a female executive in the music industry, I'm thrilled to be attending SXSW as a mentor and that we are supporting the Nashville House Showcase which highlights a few of our artists that are available for booking through EVAmore.co," says Makenzie Stokel, COO / Co-Founder EVAmore. "Austin has so much to offer and we look forward to a strong, successful week."
"EVAmore is considered a secret weapon for corporate event planners which has quickly increased corporate business through our digital platform," says Channing Moreland, CEO / Co-Founder EVAmore. "It is our job to continue listening to our customers' needs and expand our services to Austin."
EVAmore COO Makenzie Stokel will be in Austin March 13-17 to solidify expansion details for EVAmore.co into the Austin market and attend SXSW. Stokel is a mentor at SXSW and will be conducting meetings with Top Destination Management Companies, corporate, and event/wedding planners while in Austin, in addition to solidifying the EVAmore Austin talent roster. Plus, EVAmore is a media partner of "The Nashville House" Rooftop Party on Wednesday, March 14th.
SXSW EVENT INFORMATION:
THE NASHVILLE HOUSE
Wednesday, March 14
1PM-2AM
Maggie Mae's - Rooftop Party
323 E 6th St
Austin, TX
https://sxswnashvillehouse.wixsite.com/nashhouse
About EVAmore (EVAmore.co)
Award-winning EVAmore (Events, Venues, Artists & more) provides a digital online platform at EVAmore.co that automates the process turnkey for booking live entertainment for events. The easy to use website allows event planners to browse multiple genres and offers top-vetted professional and reliable artists guaranteed to have a strong digital presence and recorded music material. Users set the event time, date and budget and request to book. EVAmore handles confirmation and the rest – it's that simple. EVAmore makes it easy and turnkey offering: Reliable Bookings; Simple Contracts and Secure Payment. The unique platform draws comparisons in the music and entertainment industry to the innovations presented by early online platforms created for the travel industry in booking.
EVAmore has received the "Young Entrepreneur of the Year" award from the Nashville Chamber of Commerce in 2015. The company emerged as the only female-led music tech firm among the inaugural class of the Project Music international accelerator program.
Weblinks: https://evamore.co/ http://www.twitter.com/EVAmoreco / https://www.facebook.com/evamoreco/ http://www.instagram.com/EVAmoreco