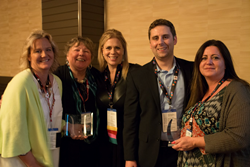 It is the relationships and overall partnership of our network that have allowed us to expand our program by 34% year over year.
SEATTLE (PRWEB) March 07, 2018
ABODA by RESIDE (ABODA), a leader in global housing management services, hosted its first annual partner award reception during the Corporate Housing Providers Association Annual Conference in Las Vegas, NV in February.
On the heels of a record year culminating in the company's acquisition by Westbridge Capital Ltd., ABODA invited its partner network to a cocktail reception to celebrate their joint success. "As we work to grow our brand and the loyalty of our customers," said Robyn Joliat, CCHP, Executive Vice President for ABODA, "it is the relationships and overall partnership of our network that have allowed us to expand our program by 34% year over year and deliver our brand promise."
ABODA's partner network has grown to over 375 partners globally. "Our partners have set the bar high," stated Tyler Nicol, CCHP, Global Supply Chain Manager for ABODA. "Our network is comprised of flexible, responsive and creative partners who prioritize servicing our guests while working in the spirit of partnership with us."
ABODA's first award recognized partners who achieved Top Block Rating by scoring over 8 on a 10-point scale on guest satisfaction surveys and delivered an exceptional guest experience. "Top Block" award winners were AHI Corporate Housing, Now Leasing, Corporate Housing Systems, CWS Corporate Housing, Oasis Corporate Housing, Paragon Corporate Housing, Relocation and Corporate Concepts, Preferred Corporate Housing, Per Diem Suites, PC Housing, Churchill Living, HighStreet Accommodations, LEVEL Furnished Living, Premier Corporate Housing, Corporate Stays, Gables, ABA, Oasis Collections, Dwellworks and Clarendon.
The second award went to global partners who went above and beyond with ABODA in creative situations; partners who were willing to take risks and think outside the box. The 2017 "Partner in Excellence" awards went to V-Suites for the AMERICAS, Dwellworks for the EMEA/LATAM region and Oak Chateau for the APAC region.
ABODA's third award was voted upon by its Global Housing Consultants. CWS Corporate Housing was named as the winner of the "Consultants' Choice" award for their exemplary partnership, going above and beyond, being easy to work with and for their focus on delivering excellent customer service to our guests.
The last award of the evening was to celebrate the partner who embodies the key components driving the ABODA partner program: high revenue production, operational excellence, best in class service, value and transparency. The 2017 "Partner of the Year" award was proudly delivered to HighStreet Accommodations.
In 2018, ABODA by RESIDE plans to further grow its partner network program to continue to deliver global housing excellence to clients and guests. For more information regarding joining the ABODA network, please contact Tyler Nicol at tyler.nicol@aboda.com.
ABODA by RESIDE
ABODA by RESIDE is an innovative leader in global housing management services, providing responsive, reliable and resourceful solutions to some of the biggest brands in the world, many headquartered in the Seattle area where the firm is based. For 30 years, ABODA has offered end-to-end corporate and serviced housing solutions, furnishings, property management and cleaning services. ABODA is flexible enough to meet clients' ever-changing business needs through its award-winning customer service. Learn more about ABODA at http://www.aboda.com or call 1-888-389-0500.