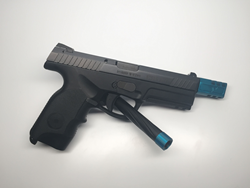 "During our testing, we found these match-grade barrels to be superbly accurate. The results speak for themselves. This is the best barrel that you can buy for your Steyr pistol," said Adam Devine, CEO, Co-Founder, and Head of R&D, Ranger Point Precision.
HOUSTON (PRWEB) March 07, 2018
Ranger Point Precision, the leading innovator and producer of custom-built, match-grade rifles and performance parts for rifles and pistols, today announced its expanded line of performance parts for Steyr Arms Inc. A-1 pistols including .357 Sig pistol barrels, a drop-in part to convert 40 S&W pistols. Both standard and threaded options are available along with thread protectors and mini-comps for .357 Sig / 9mm calibers.
"We start with premium Douglas barrel blanks with precise rifling, then use minimum spec chamber reamers, and the most advanced methods for heat treating and salt bath black nitride to produce the best Steyr pistol barrel available on the market," said Adam Devine, CEO, Co-Founder, and Head of R&D, Ranger Point Precision.
Steyr .357 pistol barrel features include:

Barrels chambered in .357 Sig from premium Douglas barrel blanks in 4140 chomoly steel with 6 groove rifling and a 1:16 twist with tolerances held to +/- .001" in critical areas and engineered to be a drop-in fit;
Barrels are vacuum heat treated to 42 HRC and Salt Bath Black Nitride coated, giving them a surface hardness above 80 HRC
Standard and extended lengths for the Steyr A1 C40, S40, M40 and L40 pistol models;
Threaded barrel options are 1/2x28 RH with a "dimple" to hold a mini-compensator or suppressor in place; and
RPP extra power extractor spring provided for improved ejection.
Add-ons:

Thread Protectors in 1/2x28 RH or 13.5x1LH made from 6061 aluminum and anodized in black or blue; and
Mini-Comp's available in 1/2x28 RH or 13.5x1 LH (fits .357 SIG / 9mm or 40 S&W) made from strong as steel 7075 aluminum and anodized in black and blue.
These Steyr Arms Inc. A-1 pistol products expand our current line of parts: reduced power magazine spring, steel guide rods and brass weights for reduced recoil and muzzle rise, 18 rd extended magazine for 40 S&W and .357 Sig ammo, custom made DoubleClick kydex holsters for all Steyr A1 pistol models. Details and pricing can be found at http://www.rangerpointstore.com/steyr-a1-pistol-parts.html
About Ranger Point Precision
Located in the Houston area in Cypress, TX, Ranger Point Precision (RPP) is a leading innovator and producer of custom-built, match-grade Marlin Firearms lever-actions in big bore, small-to-mid-sized, pistol caliber and semi-auto pistol calibers and 6.5 Grendel AR-15 rifles; and a designer and manufacturer of performance parts for rifles and pistols. To learn more, please visit us at http://www.RangerPointPrecision.com and http://www.rangerpointstore.com