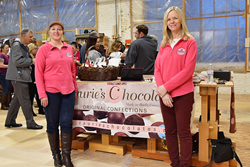 Bucks Locavore ~ Buy Local Event is an interactive evening where everyone is part of the event.
DOYLESTOWN, Pa. (PRWEB) March 14, 2018
Bucks Locavore ~ Buy Local networking event isn't your traditional networking event. Over the last 9 years this event has introduced thousands of community members to the buy local movement and the abundant offerings of our local food and beverage purveyors. This year the event was held February 22, 2018 at Superior Woodcraft in Doylestown and hosted well over 500 attendees sampling from over 40 producers from the Bucks County area.
Bucks Locavore ~ Buy Local is an interactive evening where everyone is part of the event. Many business relationships are formed and new customers are earned during the event. A great example is Laurie's Chocolates. This year, Laurie offered samples of her delectable truffles featuring products from two other Bucks Locavore participants, Buckingham Valley Vineyard and Olive Oil Etc. Offbeat Gourmet paired their amazing condiments with the smooth and creamy cheeses of Fulper Farms. Linda Cantrell of Nobel Sweets speaks of her new alliances as a result of Bucks Locavore, "I met another baking company, One Sweet Baker. We messaged each other after the event and agreed that we would refer each other with customer requests for items that we did not make. We were both thrilled with the agreement. I have gotten a few calls already from new business customers. I also think that I have a good chance at a grand opening dessert display for a new business"
New customers weren't the only success during Bucks Locavore 2018. This year the Bucks County Housing Group was onsite to collect donations for our local food pantries. Thanks to the generosity of this wonderful community, we collected 743 pounds of food. When we add this to cash donations, a value of over $1500 was sent to the pantries. Not bad for only 3 hours!
Superior Woodcraft, award winning cabinet maker in Doylestown, generously opens the door of their historic factory to host the event each year. Patrick Kennedy, of Superior Woodcraft created the idea of this event to keep the buy local movement strong and in the forefront of the public eye. "When local businesses succeed the entire community benefits, which is what we experienced at the Buck Locavore ~ Buy Local event. Businesses were helping other businesses and together with other community members we were able to help support our local food pantry. The Bucks Locavore ~ Buy Local Event was truly a successful community event in all aspects. We thank everyone for their participation."
Bucks Locavore~Buy Local is held every February and is one of the premier networking events in Bucks County. Join Superior Woodcraft in Doylestown for the 10th annual event in 2019.