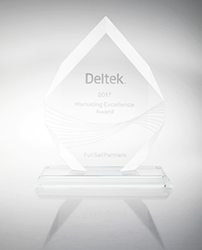 It is our honor to recognize Full Sail Partners with this year's Deltek Partner Marketing Excellence Award. - Ray Lazarine, Senior Marketing Director at Deltek
HERNDON, Va. (PRWEB) March 08, 2018
Full Sail Partners is honored and excited to have received the Deltek Partner Marketing Excellence Award for 2017. As a Deltek Platinum Partner, Full Sail Partners continues to provide sales, implementation, consulting, support and customization services for project-oriented professional services organizations. Our mission is to help businesses integrate their processes into one singular system, better understand and retain current customers, and increase market share. We leverage multiple inbound and outbound marketing strategies to drive awareness and strive to provide valuable content for Deltek Vision and Deltek for Professional Services users.
"It is our honor to recognize Full Sail Partners with this year's Deltek Partner Marketing Excellence Award. Full Sail Partners continues to deliver products, services and support that help our customers successfully grow their business," said Ray Lazarine, Senior Marketing Director at Deltek.
Both Deltek Vision and Deltek for Professional Services are leading enterprise software solutions designed for project-based professional services firms to improve business performance, streamline operations and win new business. With automation of marketing, financial management, planning, tracking and administration of resources and projects, these products uniquely integrate end-to-end business processes. Using the Blackbox Connector offering by Full Sail Partners, Deltek Vision and Deltek for Professional Service users can connect their systems to other third-party software solutions further streamlining business operations.
"We are humbled and honored to be recognized by Deltek with this Marketing Excellence Award for a second year in a row," said Sarah Gonnella, VP of Marketing and Sales at Full Sail Partners. "Marketing is a team effort. Without an amazing marketing machine and great consultants providing relevant content, this accomplishment would not be possible. This group effort allows us to continue to establish ourselves as thought leaders and ensure our message is focused on our clients' needs."
About Full Sail Partners
Full Sail Partners provides client-focused technology services and solutions for more than 1,000 professional services' firms nationwide. As a Deltek Platinum Partner, Full Sail Partners helps project-based firms fully integrate their business processes by connecting their front end and backend systems. We seek to help organizations identify the critical resources needed to create a faster, more efficient, and cohesive business infrastructure.
Full Sail Partners – Keep Your Business on Course. | For more information, please email Full Sail Partners' Marketing Communications Department or visit the Full Sail Partners' website at http://www.fullsailpartners.com.