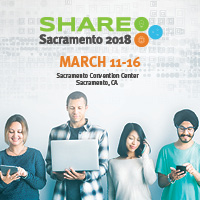 We are excited to again have the opportunity to work the vibrant user community here at Share, and we are looking forward to interacting with our customers and partners on application optimization and modernization. I am always energized by the great technical conversations we are able to have.
AUSTIN, TX (PRWEB) March 11, 2018
CM First Group has signed on as an exhibitor at SHARE® Sacramento, the one-stop shop for enterprise IT education, taking place March 11-16, 2018, at the Sacramento Convention Center. At SHARE events, attendees enjoy a longstanding tradition of advancing the enterprise technology industry. Each bi-annual event is handcrafted by volunteers to help attendees expand knowledge, enhance skills and increase organizational efficiencies by focusing on three main tenets: Education, Networking and Influence.
Providing event attendees with the most current information on CM evolveIT, as well as best practices in modernizing IT Mainframe applications, CM First Group will be heading to Sacramento to be a part of the SHARE Technology Exchange Expo, joining other companies whose IT initiatives include DevOps, IBM Z®, Innovative Workloads, Analytics, Big Data, Mobile, Cloud, Db2, Security and more.
CM First Group will highlight the latest release of its flagship product, CM evolveIT 10.6 with the new Portfolio Dashboard, which gives analysts the precise application intelligence they need for the most demanding projects. CM evolveIT provides fast and accurate application cross-reference, as-is diagrams and reports, an Enterprise Impact Analysis, and more.
CM First Group will be providing the following technical contributions to the Share proceedings:
Supercharging the Enterprise Software Factory - Tuesday, March 13, 1:45 pm in Room 205
Lunch & Learn: "Manage Data Lineage and Business Rules Projects with Confidence" - Tuesday, March 13, 1:45 pm
For other news and updates on CM First Group, visit http://www.cmfirstgroup.com
To learn more about SHARE Sacramento, visit http://event.share.org.
About SHARE Inc.
SHARE Inc. is an independent, volunteer-run association providing enterprise technology professionals with continuous education and training, valuable professional networking and effective industry influence.
About CM First Group
CM First Group's powerful automation tools, augmented by services partners and professional services staff with many decades of software engineering and DevOps experience, ensure successful outcomes for even the most demanding modernization projects. Our products and expertise have helped over 400 customers in the public and private sectors reach their desired future state faster and more cost effectively than by using conventional approaches.
CM First software quickly analyzes, documents and re-platforms legacy code bases with minimal errors and rework, including those that are too large and complex for humans to tackle in any reasonable timeframe. The output is immediately usable by all team members, regardless of experience and knowledge of legacy software languages, accelerating application maintenance and modernization projects.
Americas Headquarters
+1-512-600-1484
+1-888-866-6179
France
+33 608 504 285
infofrance(at)cmfirstgroup(dot)com