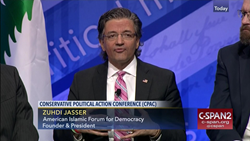 LOS ANGELES (PRWEB) March 07, 2018
President of the American Islamic Forum for Democracy (AIFD), Dr. M. Zuhdi Jasser, argued in a recent interview with PJ Media that the Southern Poverty Law Center (SPLC) has become a tool of Islamists across the world, including ISIS. "By attacking Muslim reformers who are striking at the root of Jihad, the SPLC is abetting radical Islamic terror in the name of identity politics," says Jasser.
Dr. Jasser, co-founder of the Muslim Reform Movement, expressed his support for Maajid Nawaz recently, a British politician and founder of the anti-Islamist organization the Quilliam foundation, who sued the SPLC for defamation last year, after the group labeled him an "anti-Muslim extremist." Jasser states, "the SPLC intends to silence reformers like me and Nawaz because our cause is inconvenient for identity politics."
"The SPLC ends up becoming a tool of the theocrats — like the Saudis and others who you think they'd disagree with — but they don't care about what they're facilitating globally, which is global jihad of the Islamic Republic of Iran or Saudi Arabia," Jasser explained to PJ Media at the Conservative Political Action Conference (CPAC).
At CPAC, Dr. Jasser went on to say, "that the SPLC just wants to use us Muslims as an identity politic. So the biggest threat to their power are Muslims within our identity who reject their identity politic. That's why they want to label us Islamophobes and bigots, and I think Maajid's suit is a smart thing. Anything I can do to help him, I will."
As for the SPLC, Jasser stated, "they are basically doing the work to silence and marginalize the authenticity of the voices of Muslim reform. In doing so, they echo the work of Islamist regimes across the world."
"That's what the Saudis do, but they even do it more flagrantly, by whipping and flogging folks for disagreeing with their interpretation of Islam," the AIFD president said. "They say [those who disagree with them] are not Muslim, they've left Islam, when they criticize the government there. So what's different? There is no difference."
For more information on Dr. Zuhdi Jaser, please visit: http://www.mzuhdijasser.com/about