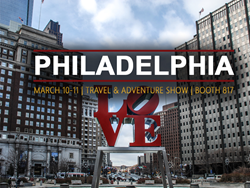 Travelers and travel professionals can visit to learn more about the new and different ways of traveling and our services
PHILADELPHIA (PRWEB) March 08, 2018
Charming Travel Destinations (CTD) will participate in the Philadelphia Travel & Adventure Show on March 10th-11th and the Denver Show on 24th-25th. The company joined the show to demonstrate its latest offers full of multi-country, niche and value tours.
In support of their motto, "Time to Travel," Charming Travel Destinations will provide its visitors with the information and deals necessary for travelers to go on the best tours of 2018. Packages will include multi-country tours to Japan, Hong Kong, Macau, China, Korea and more. Director Mariam Jimenez explains that the company has put in strong efforts to create tours for unforgettable memories in time for the shows.
"This year, we hope to help travelers find the perfect tours to the best destinations," says Jimenez.
"In order to provide these tours to a nationwide audience, we are participating in shows in different coasts. Travelers and travel professionals can visit to learn more about the new and different ways of traveling and our services."
Charming Travel Destinations will also showcase their newest services and programs including their loyalty club, air fare, early bird specials and Spanish tours. Attendees can stop by the booth to learn more about these programs from travel professionals.
The annual Travel & Adventure Show is currently one of the top travel shows in the U.S. that provides attendees with performances, seminars, celebrity speakers, hacks, opportunities and delights all related to traveling.
With the success of the Los Angeles Travel & Adventure Show this past February, Charming Travel Destinations seeks to help more clients to tap into their passion for travel.
The Philadelphia Travel & Adventure show will be taking place at the Pennsylvania Convention Center on March 10-11 and the Denver Show will take place in the Colorado Convention Center on March 24-25.
To learn more about Charming Travel Destinations, visit https://charmingtraveldestinations.com/
To learn more about the Travel & Adventure Trade Show, visit
https://travelshows.com/
About Charming Travel Destinations
Charming Travel Destinations is a major tour operator in North America arranging exclusive group, independent, student and corporate travels. With over 25 years of knowledge and experience, Charming Travel Destinations promises the best quality performance, service and products in the travel industry. For more information, please visit https://charmingtraveldestinations.com/