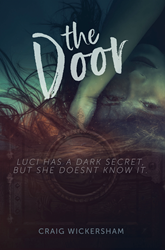 TEMPE, Ariz. (PRWEB) March 12, 2018
Author Craig Wickersham begins a trilogy with a dark secret in "The Door." Luci Comburet is a trailer park teen who finds herself targeted by a cult of religious fanatics who want to kill her because they think she is half human, half angel.
Luci, whose mother died when she was a baby and never knew her father, is suddenly alone. Her grandmother has passed, and she must live with an estranged uncle. One night, in her new bedroom, Luci hears a strange man's voice. Later, she finds an ancient relic hidden inside an old dresser. It is a small black door carved with mysterious angels and a two-headed snake. After touching the snake, Luci awakens with the man's voice inside her head, and he warns her to flee.
"The universal story structure contains the hero's journey," said Wickersham. "The elements that we include in our stories reveal how we see the world, where we grew up, and what our culture has taught us."
Fearful and confused, Luci barely escapes a deadly fire and finds herself on the run from a killer cult that will not stop hunting. The unwanted chase leads her into the world of those who could save her from the cult, but when they come across the door, Luci quickly discovers they have their own agenda.
"The Door"
By Craig Wickersham
ISBN: 9781483474571 (softcover)); 9781483474564 (electronic)
Available at the Lulu Online Bookstore, Amazon, and Barnes & Noble
About the author
Craig Wickersham was born in Denver, Colorado and grew up in Santa Cruz, California. Creativity is the word that describes Wickersham's being, whether it is expressed through the personal designs for his clients, or the pages of his novels. As a young reader-writer, he was inspired by a broad range of authors and subjects, inspiration he channeled into creativity once again, authoring several short stories which led to full novels. As an architect, artist, sculptor and writer, Wickersham enjoys life with his wife Teresa and son Miles, who support and inspire his creativity. To learn more, please visit http://www.craigwickersham.net.
###
General Inquiries:
LAVIDGE – Phoenix
Bryan Beach
480-306-6554
bbeach(at)lavidge(dot)com
Review Copies & Interview Requests:
LAVIDGE – Phoenix
Kiersten Woglom
480-998-2600 x 586
kwoglom(at)lavidge(dot)com