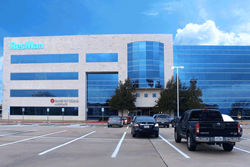 ResMan is staying local but has moved to an area which occupies three times the space of the former location.
(PRWEB) March 15, 2018
ResMan, provider of property management software to the multifamily industry, announced the relocation of its corporate headquarters on March 5, 2018. Founded in the suburbs of Dallas, Texas, ResMan is staying local but has moved to an area which occupies three times the space of the former location.
"Due to the continued growth of our team, we were bursting at the seams in our former office," states Elizabeth Francisco, Co-Founder and President of ResMan. "We were split between two suites and needed something that brought the entire team together. A new and larger space that represents our culture and fosters collaboration was the solution. We were able to design a space that complements our current talent while allowing us to meet our objective as an employer of choice by attracting talent to this beautiful facility."
ResMan's new location is in Plano off Dallas North Tollway, a main transportation corridor where companies including Toyota Motor North America and Liberty Mutual Insurance have also chosen to locate their corporate headquarters. ResMan now occupies over 23,000 square feet – the entire second floor – in Parkway Centre I.
The new office is an invitation for comfort while encouraging innovation. Employees can now step away from their work into a large and welcoming breakroom. Teams can meet in collaborative areas and conference rooms while smaller meetings can take place throughout a multitude of One-On-One rooms. Finally, ResMan Users are now welcomed into the new training facility, which for the first time is on-site at ResMan Headquarters.
About ResMan:
ResMan® is the fastest growing property management software solution in the multifamily industry. In an age of new ideas, ResMan prides itself on recruiting some of the brightest minds in the industry to deliver intuitive software and industry-leading customer experiences. Built on a single platform: ResMan's Multifamily Solution Suite provides a highly intuitive solution to meet both operational and accounting needs for the multifamily owner/operator. The foundation of Multifamily Solutions Suite is the Essentials Platform which delivers the most robust core in the industry, providing easy-to-use automation tools that improve operational effectiveness and productivity for Conventional and Affordable Housing Property Management. Through dedicated and collaborative partnerships between ResMan and their integrated strategic partners, consumers can take advantage of best in class solutions with single sign-on and support from ResMan's dedicated client services team.
For more information, visit http://www.myresman.com