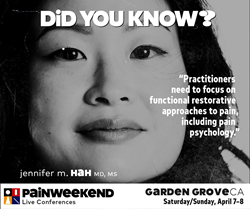 I [Dr. Hah] look forward to sharing some approaches that attendees can use to successfully achieve opioid cessation in their patients.
MONTCLAIR, N.J. (PRWEB) March 21, 2018
Come to PAINWeekEnd on April 7-8 at the Hyatt Regency Orange County, 11999 Harbor Boulevard, in Garden Grove, California. It will be an educational and exciting 2-day program providing busy clinicians and allied healthcare practitioners with 12.0 hours of relevant, practical instruction in the management of chronic pain.
In the face of an impending deadline last month for submission of new legislation, members of the California State Assembly introduced a variety of new initiatives dealing with prescribing practice and the availability of opioids. Most of the new bills dealt with prescription monitoring and other administrative requirements for practitioners, but one proposal would severely limit providers' ability to prescribe "an opioid in an amount greater than that the patient needs for a 3-day period." Jennifer Hah, MD, MS, a member of the faculty in the Department of Anesthesiology, Perioperative, and Pain Medicine at Stanford University, will be among the presenters at PAINWeekEnd Garden Grove to offer timely and relevant guidance to clinicians in this increasingly complex practice environment. Of her course presentation Minimizing Pills and Maximizing Skills: Achieving Successful Opioid Cessation in Chronic Pain, Dr. Hah remarked: "I look forward to sharing some approaches that attendees can use to successfully achieve opioid cessation in their patients. Recognizing and taking advantage of the patient's own expressed interest in tapering off their medications is key, and there are motivational strategies that can be engaged to lead patients to other treatment options."
Other courses to be offered at PAINWeekEnd Garden Grove include Falling Down the Rabbit Hole: A Primer for Chronic Pain Management and Substance Abuse Disorders; Crisis=Opportunity: Reducing Medication Burden While Managing Chronic Pain; Medical Efficacy of Cannabis Therapeutics: Focus on Pain Management; The 411 on Nonprescription Analgesics: When to Hold 'Em, When to Fold 'Em; Pain Diagnostics: Clinical Pearls to Improve Common Tests for Pain; The Role of Advanced Practice Providers in Chronic Pain; 3's Company: COX-2 Inhibitors, Medicinal Marijuana, and Opioid Prescribing; Pain Pathophysiology Unraveled; and Extended-Release and Long-Acting Opioid Analgesics: Risk Evaluation and Mitigation Strategy (REMS).
Commercially supported activities—addressing a range of product, disease state, and medical information topics—will also be presented.
Online registration fee for this PAINWeekEnd Conference: $199. PAINWeekEnd registrants may register for the 2018 PAINWeek National Conference, September 4-8, in Las Vegas, for $200 off the current online published price.
PAINWeekEnd is provided by Global Education Group. About Global Education Group:
Global Education Group focuses on producing partnership-based CME for healthcare practitioners. The Global team works with a select group of medical education companies, associations, academic institutions and healthcare facilities to develop and accredit live healthcare conferences and workshops as well as online activities. With each partnership or joint providership, Global brings accreditation expertise, project management excellence and grant funding intelligence. Based in Littleton, Colo., Global has accreditation with commendation from the ACCME. Global also holds accreditations to offer continuing education for nurses, nurse practitioners, pharmacists, dietitians, dentists and psychologists. Global is a division of Ultimate Medical Academy.