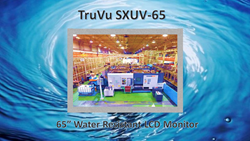 Seamlessly integrate the TruVu SXUV-65 into operations with the assistance of Aegis Electronic Group, Inc.
GILBERT, Ariz. (PRWEB) March 12, 2018
TruVu customizable industrial monitors are proven to perform in extreme environments. The SXUV-65 is no exception to the durability of TruVu monitors. The SXUV-65 is a waterproof LCD monitor built to operate in manufacturing facilities, processing plants, washdown environments, or any area where splashing may occur. In addition to the Full HD resolution, 1920 x 1080, the monitor is enclosed in an IP55 water resistant enclosure. Numerous monitors have HD resolution, waterproofing, and a liquid crystal display, but few combine all these attributes into one monitor, especially not at a staggering 65".
SXUV-65 Secifications:
LCD Panel 65" Color MVA Panel; LED Backlights
Display Resolution 1920 x 1080 (1080p/60 Full HD)
Viewable Area 56.275" (W) x 31.67" (H) (1429.39 x 804.42 mm)
Pixel Pitch 0.3722 x 0.3722 mm
Display Colors 16.7 M
Aspect Ratio 16:9
Brightness 450 nits
Contrast Ratio 1,300:1
Viewing Angle 178° (H) x 178° (W)
Response Time 10 msec (gray to gray)
Control OSD (On-Screen Display) via Waterproof Remote or RS-232
Video Inputs VGA, HDMI, Component, Composite (RCA), TV (Coax)
Power Requirement 90-240 VAC
Power Consumption 108 Watts
Enclosure IP55 Water-Resistant, Powder-Coated Aluminum
Mounting 600 x 400 mm Rear VESA Mount Holes
Operating Temp -22° to +122°F (-30° to +50°C)
Dimensions 59.69" (W) x 35.34" (H) x 4.15" (D) (1516 x 898 x 105 mm)
Weight 104 lb. (47 kg)
Warranty 3 Years
All TRU-Vu industrial LCD monitors are specifically designed for use in demanding applications. EveryTRU-Vu monitor utilizes industrial-grade components and high-end LCD panels not found in retail/consumer-grade monitors. Ensuring superior image quality, improved performance and greater durability. Demanding applications call for tough equipment and TruVu provides sturdy LCD monitors for wet environments and many other machine vision applications. Improve production and contact Aegis Electronic Group, Inc. for seamless integration of TruVu's SXUV-65.