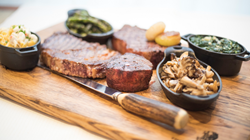 "We knew that spectacular steak cuts could be found right here in Texas." Dean Fearing
DALLAS, Texas (PRWEB) March 09, 2018
SUMMARY
--Fearing's announces a new addition to its best-selling Bold Flavors/No Borders menu
--Per Chef Dean Fearing, "We've wanted to add a steak menu forever…but we've never wanted to be locked into sourcing from big out-of-state feed lots. We knew that spectacular steak cuts could be found at A Bar N Ranch, right here in Texas."
--The result is a new Butcher Block Menu of Texas Wagyu/Texas Angus steaks, grilled over live-fire mesquite and offering unparalleled flavor, richness and marbling. Steak-lovers' sides and salads are also available.
--The new offering is among seven different menus now available at Fearing's. Permanent options include the regular Bold Flavors/No Borders Dinner and Lunch menus, plus Butcher Block, Vegetarian, Simply Prepared, Sunday Brunch and Rattlesnake Bar menus.
After two years of sourcing the best Texas steaks available – a collection of cuts strictly from Texas, Fearing's has introduced the ultimate addition for lovers of steak and salad, and steak and great sides.
Now offered as a supplement to its regular menus, the restaurant's new Butcher Block Menu was quietly introduced a few weeks, ago, so that guest preferences for cuts and sides could be tracked and measured. The final favorites have become a permanent addition to the restaurant's regular Bold Flavors/No Borders cuisine and will provide Fearing's diners with new access to the world of ultra-premium Texas steaks.
"We've wanted to add a steak menu forever, honestly, because so many business travelers and local diners love a great steak with a salad or sides. But we've never wanted to be locked into sourcing from big out-of-state feed lots, when we knew that spectacular steak cuts could be found right here in Texas," said Dean Fearing, chef/owner.
All three of the new Butcher Block Menu steaks come from longtime Fearing's partner A Bar N Ranch, which is headquartered in in Sherman, Texas and operates ranches in both Sherman and Celina.
A Bar N is known for its buttery, richly marbled Texas Wagyu beef, genetically derived and grown from Japan's prized Tajima line of cattle. A Bar N cattle are cross-raised with the ultimate combination of Texas Wagyu and Texas Angus genetics, building even further flavor into the three new steaks now available at Fearing's: Wagyu Ribeye, Prime Strip Loin, and Prime-Plus Petit Filet Mignon.
There's more to the flavor story, though. As Fearing explains, "Our new A Bar N Butcher Block selections are grilled over live-fire mesquite, rather than being broiled. Using mesquite is how steaks used to be prepared, and we're going back to this authentic Texas method to really capture the amazing taste of this meat."
Researching premium Texas ranches was a multi-year priority for Chef Fearing as he built the test menu, becoming the first customer of A Bar N Ranch four years ago. The final version features the most popular selection which was tested: A Bar N filet mignon. In a further nod to local heritage, one of the menu's four optional sauces is a sweetly savory West Texas Mop, while salad options feature Marfa, Texas tomatoes in the menu's Gem Wedge, and a Southwestern Caesar showcasing local red chili dressing.
"I'm incredibly excited about this added menu," said Fearing. "With the addition of Butcher Block, there really is something for everyone at the restaurant, from the regular Bold Flavors/No Borders Fearing's menu to our recently introduced Vegetarian menu, our existing "Simply Prepared" basics that can be ordered individually, and a Sunday Brunch menu that offers the best-priced "Whole Enchilada" in town. Add to this our new Rattlesnake Bar food menu and creative cocktails which are so popular at Happy Hour, and we are incredibly excited about what our restaurant future holds."
About Fearing's Restaurant
Fearing's has been named North America's #1 hotel restaurant by Zagat Survey, one of the world's top ten restaurants by Hotels Magazine, new restaurant of the year by Esquire and one of the nation's top 100 restaurants by the users of OpenTable.com. Presenting award-winning "Bold Flavors, No Borders" cuisine and more in seven distinct dining settings including the popular Rattlesnake Bar and Dean's Kitchen, Fearing's Restaurant is the creation of beloved Texas chef Dean Fearing, author of The Texas Food Bible, one of the fathers of Texas regional cuisine and a founding member of popular all-chefs band, the Barbwires, and of the Dallas-based Lost Coyote Band. Also home to one of the city's most popular Happy Hours and an equally well-attended Sunday Brunch, Fearing's recently celebrated its 10th anniversary, unveiled acclaimed Vegetarian and Simply Prepared menus, and launched a new slate of highly visual cocktails that innovate, entertain and tell a story. For further details, visit the website at http://www.fearingsrestaurant.com or connect online at https://twitter.com/fearingsdallas, https://www.instagram.com/fearingsdallas or https://www.facebook.com/FearingsRestaurant. #fearingsdallas #deanfearing #fearingsrestaurant