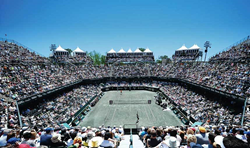 I'm happy to team up with a program like Nike Tennis Camps that shares the same level of passion as I do.
SAN RAFAEL, Calif. (PRWEB) March 12, 2018
Located just 20 minutes from downtown Charleston, this state-of-the-art facility offers 20 championship courts and a 10,200-seat stadium in which campers will train. The Family Circle Tennis Center serves as the site for various tournaments throughout the year including the Family Circle Junior Tennis Championship and the WTA Volvo Car Open.
Led by Co-Directors Bryan Minton and Jeff Wilson, this adult weekend camp offers three day clinics designed to address your specific needs and help you improve in a fun and friendly environment. Bryan Minton, named SC Pro of the Year in 2015, has specialized in junior development for over 25 years, trained athletes to state, national, international and professional titles. He was also named SC Pro of the Year in 2015. "My programs are defined by their positive team-based culture. I believe that any person who wishes to learn and does the work that is needed to excel will be successful in tennis and in life," states Minton. "I'm happy to team up with a program like Nike Tennis Camps that shares the same level of passion as I do." Co-Director Jeff Wilson has coached junior and professional players in tournaments in over 90 countries across the world, was the former assistant coach at Georgia Tech, Duke University and San Jose State, and has run Nike Tennis Camps over the years at various locations.
The Nike Adult Tennis Camp in Charleston will be running three weekends throughout April, May and October. Camp begins on Friday at 3:00pm with an immediate training session until 5:30pm. Saturday features on-court instruction from 8:30am-11:30am followed by lunch and an afternoon session from 1:30pm-4:00pm. Campers will take part in a Wine Tour after tennis instruction on Saturday. The last training session will be on Sunday from 8:30am-11:30am.
Campers interested in the 2018 Nike Adult Tennis Camp at Charleston can visit http://www.ussportscamps.com/tennis for more information or call 1-800-645-3226.
About US Sports Camps
US Sports Camps (USSC), headquartered in San Rafael, California, is the world's largest sports camp network and the licensed operator of Nike Sports Camps. The company has offered summer camps since 1975 with the same mission that defines it today: to shape a lifelong enjoyment of athletics through high quality sports education and skill enhancement.