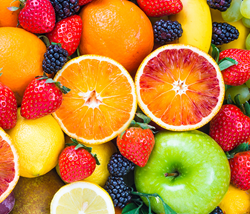 Between Alan and Francisco, they can bring a solution to any question. I wouldn't call anybody else.
LOS ANGELES (PRWEB) March 08, 2018
Without the right packaging, delivering fresh cut fruit to the growing market of healthy snackers can be tricky business. A failed container can turn beautiful, bite-sized oranges, mango, melon, strawberries, grapes, pineapple and papayas into a mess in the lap of an upset customer, and wreak havoc in the distribution chain or on the production line. It's a situation Simply Fresh Fruit (simplyfreshfruit.com) knew all too well.
When a major big box chain wanted to sell a nine-inch version of a fruit bowl, the quest for the right packaging began with a two-part container sourced from overseas at a price point the chain wanted. Ultimately it led them to a far superior, cost-effective total solution produced by Nuconic Packaging (nuconicpackaging.com).
"The imported nine-inch container did not perform well," said Jack Potter, President of Simply Fresh Fruit. "It had two parts and did not close correctly, which was a hassle. If dropped, it would pop open, spilling the fruit. And it was hard to fill, so it took more time to pack."
"I've got a company with a couple hundred employees filling trays all day, so we don't want anything too hard to fill because of labor costs," he said. Losing money due to inferior packaging didn't make sense at any price.
So Jack turned to an old friend on his annual Christmas card list – Alan Franz, President and CEO of Nuconic. Alan had worked at a previous supplier to Simply Fresh Fruit, and Jack knew he could trust Alan, so the journey to correct the problem began.
The initial inspiration for the design actually came from an employee at the big box store, who contacted Simply Fresh Fruit with the suggestion. Not one to waste valuable frontline intel, Jack said, "We called the head buyer at the big box store, told him about the employee's idea and, being impressed with the innovation of one of his own, he wanted to see it."
Jack relayed the idea to Alan, who passed it on to the experienced engineering team at Nuconic, led by Francisco Diaz, Director of Operations and Engineering, to develop the new design.
A 3-D printed prototype was produced and evaluated, followed by a series of recursive improvements. "We solved the easy-to-fill issue first," Francisco said, "and then we moved on to address the closure."
"We came up with an idea that was easier to fill, held the fruit well, closed more securely, and we made a big improvement on tamper proofing," said Alan. In other words – no more messes during packing, in the distribution channel, or on the customer's lap. The result is the nine-inch fruit bowl container that is now in use nationally.
Though not expected to hit the market anytime soon, a number of projects are currently in the queue for Simply Fresh Fruit for which Nuconic provides continuously refined prototypes. "This is the consulting side of our work with Jack," says Alan.
"Jack comes up with the concepts, we give him prototypes. Based on feedback, listening and reacting to what Simply Fresh needs, we adjust designs whenever issues pop up and improve them over time. Jack knows we're always available as soon as we're needed."
Simply Fresh Fruit President Jack Potter and Alan Franz, President & CEO of Nuconic, have been friends for more than 20 years. "I even send him Christmas cards," says Jack. "Alan is our packaging consultant, and he's a great partner. He's very trustworthy, and responds within minutes. Between Alan and Francisco, they can bring a solution to any question. I wouldn't call anybody else."
Alan responded: "We know Jack wants a partner in business he can rely on to know what needs to be done in real time. We're there for him. We react."
About Nuconic:
Led by a team of industry veterans, Nuconic Packaging (nuconicpackaging.com) is a premier supplier of rigid PET plastic packaging to food processors in North America. Having recently made substantial investment in the latest thermoforming and extrusion equipment, Nuconic operates a first-class production facility that has consistently received an "A" rating from its BRC food safety audits. The Nuconic team takes pride in the quality of their products, as well as their attentive and responsive customer service. Nuconic strives to serve as both a dependable supplier and a partner to food processors by taking an interest in their operations and making strategic packaging adjustments to support their success. 323-588-9177 / Los Angeles