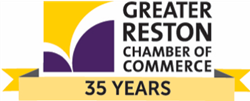 RESTON, Va. (PRWEB) March 09, 2018
The Greater Reston Chamber of Commerce has opened their nominations for the annual Awards for Chamber Excellence. The winners will be announced during a luncheon June 28th at the Sheraton Reston Hotel. These awards recognize companies and individuals who demonstrate excellence, industry innovation, community engagement and Chamber support throughout the year. The categories for the awards include:
Committee of the Year
Small Business of the Year
Medium Business of the Year
Large Business of the Year
Member of the Year
New Member of the Year
Volunteer of the Year
YP of the Year
We are proud to announce our keynote speaker is recently hired President and CEO of the Virginia Economic Development Partnership, Stephen Moret. Mr. Moret will speak about economic priorities in the state including transformational goals in Virginia that will impact businesses in our Chamber. Among these are state growth to position Virginia among the top 5-10 sates in the US and restoring Virginia to its previous leadership position near the top of the national business climate rankings.
ABOUT THE GREATER RESTON CHAMBER OF COMMERCE
The Greater Reston Chamber of Commerce is the catalyst for business growth and entrepreneurship by providing quality programs, education, connections and advocacy for our members and organizations in the Dulles Corridor and western Fairfax. Learn more at http://www.RestonChamber.org.