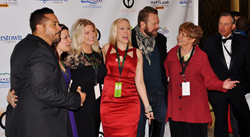 Board President Tom Riford, "This film festival has become a great Downtown Hagerstown tradition, and we thank all of our sponsors and fans! Thank you also to the more than 300 submissions from filmmakers from around the world. This festival has become very popular on the film festival circuit."
Hagerstown (PRWEB) March 08, 2018
The Seventh Annual Maryland International Film Festival-Hagerstown has selected 106 films from 13 countries for the 2018 festival! MDIFF Festival Director, Tracie Hovey said, "After a meticulous selection process, we are so grateful to have the opportunity to screen all these fabulous films at our festival. It becomes more difficult every year to pick our slate of films because we enjoy them all."
This year the festival will play host to filmmakers from around the world screening 106 films ranging from features, shorts, documentaries, animation, and student films. MDIFF will also have acting classes and after parties after each night of screenings. The screenings will be held at four locations this year: the Historic Maryland Theatre, the Hagerstown-Washington County Chamber of Commerce, the Washington County Free Library, and the Grand Piano Ballroom.
MDIFF Festival Director, Tracie Hovey said, "We have witnessed a rise in the level of competition over the past seven years. The local filmmaker submissions have grown and their films are definitely some of the best in the festival. We look forward to continuing our expansion of the festival and in future years increasing the number of distributors that attend so the festival becomes a market as well."
The Maryland International Film Festival-Hagerstown partners with several local organizations, businesses, individuals, and major sponsors which include the City of Hagerstown, the Hagerstown-Washington County Convention and Visitors Bureau, Washington County Government (Office of Grant Management), Nora Roberts Foundation, Horizon Goodwill, Ovation PR & Advertising, Hagerstown Magazine, Herald Mail, WAYZ, Tom Riford, RBC Wealth Management, and Jay Frantz, along with several others.
According to Board President Tom Riford, "This film festival has become a great Downtown Hagerstown tradition, and we thank all of our sponsors and fans! Thank you also to the more than 300 submissions from filmmakers from around the world. This festival has become very popular on the film festival circuit." The Maryland International Film Festival-Hagerstown has been voted among the "Top 50 Film Festivals Worth the Entry fee" by Movie Maker Magazine. The magazine said, this "…festival's line-up is very indie, with the occasional festival circuit darling… Students submit for free to its high school shorts contest." The magazine also commented that having Hollywood A-List Director Joe Carnahan as the Creative Director allows for wonderful "…opening night festivities which makes for a great networking opportunity."
The Maryland International Film Festival – Hagerstown is a 501(c)3 non-profit organization and is organized by filmmakers and marketing executives who understand the power of film and support the talent of the independent filmmaker. One of the film festival's goals is to encourage the development of filmmaker networks including media, distribution and the association with other artists. MDIFF-Hagerstown, believes in the importance of giving back to the community and donates a portion of the proceeds to charities around the globe.