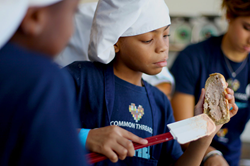 "Now, children in Common Threads programs continue to learn about nutrition outside of the classroom, and wellness advocates and aspiring kid-chefs across the country can access our research-based tools and resources."
AUSTIN (PRWEB) March 12, 2018
To celebrate National Nutrition Month, Common Threads — a non-profit organization committed to making nutrition and cooking education available to all children across the country — has launched the latest version of its online learning platform, Common Bytes, making their healthy recipes and nutrition education curriculum available to everyone. The updated platform now contains curated content from Common Threads experts—including cooking videos, games and recipes— from Common Threads experts, designed to serve as a guide to healthier lifestyles for students, teachers and parents.
Most U.S. children do not eat the recommended amount of whole grains, vegetables and fruits for optimum nutrition, and most people in the U.S. now spend more on eating out than they do on fresh groceries. It has been suggested that these trends may contribute to the high rates of obesity seen in this country. One in three children in the U.S. is obese or overweight, heightening their risk for diabetes and other diet-related diseases. More than ever do families and educators need resources like Common Bytes to make better informed diet-related decisions.
As National Nutrition Month kicks off, Common Threads invites everyone to join the Common Bytes community and to invest in their health. To join the online community, website visitors are encouraged to register as a student, teacher or parent to customize their experience, earn points and access content tailored to the individual user. Once online, visitors will have access to healthy recipes (including SNAP-certified options), nutritional information, how-to and educational videos, interactive games, pre-K through eighth grade lesson plans and other resources.
"Our programs empower children to be agents of change for healthier families, schools and communities in the 14 cities we serve. Common Bytes supports our current programming and substantially extends our reach," said Linda Novick O'Keefe, Common Threads' CEO. "Now, children in Common Threads programs continue to learn about nutrition outside of the classroom, and wellness advocates and aspiring kid-chefs across the country can access our research-based tools and resources." 
In 2017, Common Threads' on-the-ground initiatives yielded impressive results after students completed Common Threads programming including:

1. 79% of students retained or gained nutrition knowledge
2. 51% of students maintained or increased liking of vegetables
3. 43% of students maintained or increased consumption of vegetables 
4. 67% of students shared healthy eating and cooking knowledge with their families
5. 90% of students retained or increased cooking skill confidence
The new Common Bytes release expands Common Threads' reach to all children, families and teachers across the country, providing everyone the opportunity to embrace healthy cooking, healthy eating and healthy living. To learn more about Common Bytes, please visit: https://www.commonbytes.org/.
About Common Threads:
Founded in 2003 in Chicago, Common Threads was created to bring health and wellness to children, families and communities through cooking and nutrition education. By integrating preventative health programs into school districts and community organizations, Common Threads not only helps combat the rising number of diet-related diseases, but also cultivates a culture that embraces a healthier lifestyle and celebrates diversity through food. The organization envisions a community of learners that embraces healthy cooking, healthy eating and healthy living as both a life choice and a human right.
 
Common Threads currently operates in 14 major cities including Austin, TX; Chicago, IL; Dallas, TX; El Paso, TX; Fort Worth, TX; Houston, TX; Jacksonville, FL; Los Angeles, CA; Miami, FL; New Orleans, LA; New York City, NY; Pittsburgh, PA; San Antonio, TX and Washington D.C. During the 2016-17 school year and summer, it provided hands-on cooking skills to more than 118,000 students, worked with over 750 schools and partner sites and served nearly 800,000 healthy meals and snacks.
 
To learn more, visit http://www.commonthreads.org.