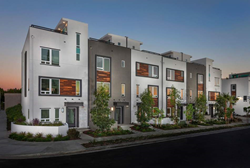 We are proud to offer brand new, turnkey, high end housing solutions to families at below Los Angeles's median home price!
LOS ANGELES (PRWEB) March 12, 2018
BREAKFORM | RE closed it's latest small lot subdivision development project in the prime Beverlywood neighborhood of Los Angeles today in an oversubscribed offering.
The project, an architecturally significant 6 Unit Small Lot Subdivision on 1973 Preuss Road, Los Angeles CA 90035 will be environmentally sustainable and eco friendly with CalGreen status. Each home will incorporate 2,100 square feet of interior living space, with 3 bedrooms, 3.5 bathrooms, rooftop deck and a 2 car garage.
The houses will be fee simple and not share any foundation or walls, with no HOA dues and with ownership of each parcel of land by the homeowner, using the Small Lot Ordinance of the City of Los Angeles.
This is the fourth transaction BREAKFORM | RE has completed in 2018, harnessing the demand for high end residential housing offerings developed and built by proven design & build firms in the core coastal Southern California markets.
BREAKFORM | RE is a fully integrated real estate investment, development and operations company focused on sourcing, acquiring and developing luxury residential assets in the core markets of Coastal Southern California. The firm manages real estate private equity funds, multiple direct asset syndications and has been involved with some of the most sought after residential projects in Southern California.