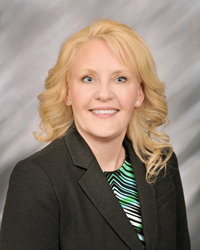 BATON ROUGE, La. (PRWEB) March 13, 2018
Mike Riche', Chief Executive Officer of United Community Bank, recently announced the addition of Cindy McGee, Vice President and Commercial Lender.
Cindy McGee joins United Community Bank with over 13 years in the banking industry, having most recently served as a Business Banker for Capital One in Baton Rouge. As a Commercial Lender, she will be responsible for Business Development and Growth in the Baton Rouge & Surrounding Market.
Cindy holds a Bachelor of Science from Louisiana State University. She is an active member of the Better Business Bureau of South Central Louisiana Advocate Program, ABC Pelican Chapter and Baton Rouge Area Chamber Ambassador Programs.
United Community Bank is headquartered in Ascension Parish. Known for its personal service and common sense approach to banking, United Community Bank is locally-owned, directed and managed with five convenient locations in Ascension & East Baton Rouge Parishes. For more information visit: http://www.UCBanking.com