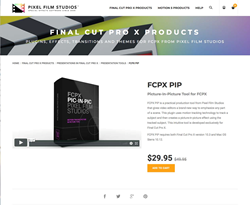 With this FCPX Plugin, generating detail on a given subject is now easier than ever!
ALISO VIEJO, Calif. (PRWEB) March 10, 2018
FCPX PIP is a new and practical production tool from Pixel Film Studios that gives video editors a brand-new way to emphasize any part of a scene. Using motion tracking technology to track a subject, this plugin then creates a picture-in-picture effect utilizing the tracked subject.
FCPX PIP is the perfect tool for giving viewers a closer look at a specific target within a scene. Examples of perfect fits for this plugin will be for sporting events, profile close-ups and for drawing attention to smaller details within a given scene. Pixel Film Studios simplified the editing process with FCPX PIP.
With our intuitive motion tracking technology, users have the ability to receive fast and accurate motion tracking without ever having to set a keyframe. Track forward, track backwards, and track multiple objects in a single scene, saving time editing and increase work flow.
After tracking a subject, turn off edit mode to begin editing the picture-in-picture effect. Take advantage of FCPX PIP's simplistic on-screen controls to reposition the picture anywhere. Then, scale up the on-screen control to magnify the contents of the picture. Offsetting the position can be easily achieved using sliders in the inspector window.
FCPX PIP works best when the selected tracking area contains distinct features and contrast from the background. Faces, logos, and distinct colors are the perfect subjects for tracking. If your subject stops tracking, simply make manual adjustments to the track points. FCPX PIP will be designed exclusively for Final Cut Pro X.
"Drawing attention to a given subject and creating dynamic picture-in-picture effects is made simple with FCPX PIP" - states David, a developer at Pixel Film Studios.
Established in 2006, Aliso Viejo, California-based Pixel Film Studios is an innovative developer of visual effects tools for the post-production and broadcast community. Their products are integrated with popular non-linear editing and compositing products from Apple FCPX. Apple, the Apple logo, Mac OS X, and Macintosh are registered trademarks of Apple Inc. in the U.S. and/or other countries. All other trademarks and trade names are the property of their respective owners.